World Class Permit on Florida's Gulf Coast.

By Capt. John Sackett
Believe it or not, one of the finest Permit fishing destinations anywhere in the world, is here in Florida! I know, I know, no big surprise, after all, the Keys have long been famous as a world class Permit fishery, and Biscayne Bay is consistently producing a few bruisers, but I'm not talking about the Keys, and I'm not talking about a few fish either!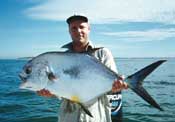 I'm talking about the Gulf coast along west central Florida, and I'm talking about thousands of fish steadily in the 10-40 pound range!
Now, I realize that this may be difficult for some people to believe, but if you are truly interested in battling trophy Permit, you don't have to travel to the far reaches of the Sunshine State to do it. In fact, world class fish are waiting within an hour or so of almost anyone living or visiting in the Central part of our state.
I have been steadily hearing over the last few years about large numbers of Permit showing up each summer on our local reefs and have been very excited about the possibility of getting out to try and witness this fishery firsthand. Unfortunately, too many hours spent at "work" and not enough time fishing has kept me from experiencing them firsthand.
Well, when Palmetto Florida based Capt. Mark Rankin called one evening last Summer and told me that the clients he had booked for that Friday morning would be willing to take a "tag-a-long" writer like myself, I was quick to take him up on the offer. No need to ask twice, that's for sure!
Capt. Mark is one of the few guides in the area that truly specializes in this incredible fishery and one that has earned his reputation by putting his clients on trophy sized fish with alarming regularity. Sure there are a lot of guides around that have caught a few Permit, but there are very few that have focused on these fish for years like Mark has.
As an admitted Tarpon addict, I was however, more than a little skeptical of Capt. Mark's claim that these oversized Permit would give me a new frame of reference when it comes to hard fighting fish. I guess I would have to see it for myself. Then again, when I got to the ramp to meet the Capt. and his anglers, I figured that the odds of us getting any fish at all was 50/50 at best.
The wind was already blowing a bit harder than I hoped it would, and the rain seemed imminent in advance of a system in the Gulf that promised to provide us with some badly needed precipitation. Once I was introduced to Matt, Wayne and Wally, we were under way and their enthusiasm started to rub off on me very quickly.
It seemed Matt was a repeat client for Capt. Mark that week, and his stories of the 26 fish they'd hooked on the previous Tuesday were incredible. I heard it all, I heard about anglers doubled and even tripled up, I heard about "tug of war" style battles that would put a big Grouper to shame, and I even heard about the 30lb Tarpon rod that snapped with a bang under the stress of one extra large silver slab.
How could this be possible? I mean, a trophy class fishery means hours and hours of work with every type of bait and every pattern in your fly box, doesn't it?
These guys, were having way too much fun to be serious Permit fisherman.
On the way out of the Manatee River, I started to ask the Capt. some specific questions about the fishery and the techniques he uses to take advantage of it. I was truly surprised when the Captain shared his opinion, that while sometimes finicky down South, these Northern migrants are relatively easy to feed in our area waters.
Seriously, bait, jigs, flies, you pick it and if you are on the right reef or rock-pile, chances are they'll eat it.
The most important thing is the structure! With a deep pool of GPS co-ordinates built over the last eight years of following these fish, a guide like Mark can move from reef to reef, or rock-pile to wreck with very little effort.
Relative to when, one should plan an excursion after these awesome fish, is seems this fishery really starts to take off by about the end of April and will last until September, although a mild fall or late commencing winter season can cause the permit to stay until December!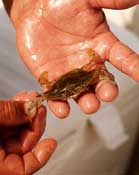 Seasonal adjustments in bait, of course, take place with the length of the season itself. The Capt. says that while he prefers crabs as his bait of choice whenever they're available, that these fish seem just about as willing to eat shrimp and flies too.
The only down side of shrimp fishing for them is that it is often difficult to keep other "less desirable" fish from beating the Permit to your offering. One of the most exciting aspects of this fishery, if you are so inclined, is their willingness to hit on crab and shrimp pattern flies as well.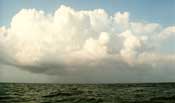 As we left Tampa Bay and entered the Gulf, I had to wonder whether or not we'd even have the opportunity to wet a line. The captain slowed the boat to idle speed once allowing the most rain laden cloud to pass us by and then headed on to what would be our first and only stop of the morning.
Arriving at the reef, Capt. Mark slowly zigzagged, watching his bottom finder to assure the most accurate possible positioning of the anchor while his anglers each reached for a spinning rod and a lively crab.
Much to my surprise, none of them reached for one of the 12lb Shimano rigs that lined one side of the center console, but instead, at the Captains direction they each took hold of a 25-30lb rig from the console's other side.
Now, while Capt. Mark's 23 foot custom boat the "Megalops" is a light tackle fisherman's dream, he had to reassure me that the Tarpon sized tackle in his anglers hands was appropriate for the job it was about to face.
Once again, the Captain probably sensed my skepticism and began to explain that pound for pound, he knew of no other fish in the sea that could out-pull these Permit, and that his 12lb outfits would result in either the fish making a quick escape into the reef or an empty spool on about 9 out of every 10 fish that took their bait!
In my past experience 12lb tackle had always sufficed on fish that would average 15-30lbs, could these fish really be that strong? I guess, I thought at that point, all I could do was wait and see.
Waiting however, was not on the Permit's agenda. Capt. Mark instructed each of his 3 anglers on where to cast so as to best use the flowing tide and by the time the third bait hit the water the first rod doubled over hard!
As the captain instructed, the angler pumped up, and reeled down hard at every moment that the fish wasn't taking line out. Despite the angler's gallant efforts, 3 or 4 minutes into the battle the fish caught sight of the boat and immediately decided he had enough playing around.
As the drag screamed, and despite efforts to "palm" the spinning spool, the angler could do nothing to keep the fish from running directly into the protection of the reef. Snap!
When battling a fish like this it became apparent, that there is no time for resting. This isn't like fighting Grouper, who oftentimes will "give in" a little once he's more that 5 or 10 feet out of his hole, these fish are never going to give up, so keep pumping at all times.
If you're not gaining line on Permit, you're losing it. By the time that rod was re-rigged, the number two rod met a similar fate. 0 for 2 on 25lb tackle, How could it be? Were they really pulling as hard as the doubled over Tarpon rods would indicate? The third rod to get hit gave clear evidence of how hard just how hard they can pull.
In order to appreciate this, you've got to picture Wally, a career firefighter, not a little guy by any means. As his rod got hit, he set the hook with all his might, the rod came clear back behind his head and the hook landed solidly into the fish's mouth, so far so good. Just as quickly as Wally had set the hook, the fish felt the pressure and immediately accelerated from 0 to about 45mph in the opposite direction!
Poor Wally! As he did a not so elegant, very rapid, twist and bend toward the stern of the boat, his left hand was pulled completely free from the rod, and Capt. Mark saw a couple hundred dollars worth of tackle dangling from just Wally's clenched right fist! Looking back on it, I'm not sure who set the hook on who, as the Permit almost pulled Wally right out of his shoes.
Sure enough, I came to realize that if I had targeted these fish on my own, I would have been sorely under-tackled. I never would have had the wherewithal to bring along my favorite 8 foot G.Loomis and Penn 7500 "Tarpon" outfit, but it might just be the perfect rig.
Obviously, a reel with plenty of capacity and a reliable drag should be mated to a rod that offers 20-30lb backbone. I would however, also recommend choosing a rod with a little extra length to assist in throwing the relatively light, live-baits perfect for these beautiful fish.
If you still think that 10-12lb tackle will work on these behemoths, there is one way to try and beat them. The only strategy that he has employed on occasion to successfully take large Permit on his lighter tackle, is to open the bail as the fish nears the structure that will quickly part the line.
This may have to be done more than once, but as the fish no longer feels the pressure of the drag, it will usually swim back up into the school holding above the threatening rocks.
If you get really lucky, the fish may even swim well away from the reef entirely on it's way further up or down the Gulf, giving you the opportunity to quickly untie your anchor line to follow along.
A quick release anchor set-up is certainly recommended if you wish to employ this option as they have the ability to empty even a large spool quicker than you'd believe.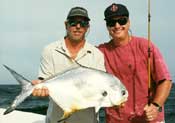 When the score was settled, the anglers had hooked 11 fish in just over an hour on that reef, and despite some pretty heroic efforts, they had only landed one. But hey, at least the Capt. didn't lose any rods.
Who knew trophy Permit fishing could be this much fun?
While the weather got the best of us, and our morning ended back at the ramp by about 10:30 a.m. I had definitely seen more than enough proof of the Permit's fighting abilities.
Picture it, a glassy calm Gulf coast morning sight-casting crab flies to dozens, if not hundreds of oversized Permit as their fins and faces pierce the surface....
Like they said it in the Movies, "I'll be Back".
Epilogue

The article you have just read is one that I was very proud, and very happy to write. I was proud of the piece for the purpose it served in publicizing a little known, world-class fishery less than an hour from Tampa and less than two from Orlando. I was happy to write this article because it introduced me to Capt. Mark Rankin, who was perhaps the most gifted fisherman I have ever known.
In the months that followed the day on the water I have written about here, Mark and I became friends and shared many of our fishing memories together. I am thankful for the time we spent doing so. Tragically, Mark was lost at sea in January 2000 with another of our area's young charter Captains, Capt. Bobby Thompson.
As the two men had so many times before, they headed into the Gulf that day in the pursuit of fish. They found fish. As they headed back toward the port that late afternoon though, they met with conditions that simply did not allow their safe passage home. Despite being a few short miles from shore, Mark and Bobby never made it home. It appears that Mark's 23 foot C-Hawk slipped beneath the waves.
To know Mark, was to know the consummate professional. Not only was Mark's boat clean and well cared for, but it was equipped with the type of safety gear that one should never be without. As the only positive thing that I feel will ever come through tragedy such as this, I will tell you that a lot more of the Captains I know now carry EPIRBs, and that many of the anglers I have spoken with, now feel that inflatable PFD's are something that they will wear. Mark had offshore life jackets aboard. You know the ones with signal lights, reflective strips and whistles. Unfortunately, the only effective life jackets in a situation like this are the ones that you are willing to wear and not the ones stowed away neatly in a locker! The newer inflatable ones that you wear like a fanny pack may not be offshore certified, but I know that one of them may have been all it took to save Mark and Bobby. Please give every consideration to wearing one.
On Friday January 15, 2000, the West Central part of Florida lost two fine fishing guides and I lost one of my closest friends. I never spend a day on the water without at least a thought or two of you Mark. Thank you, for the memories.
John Sackett
Click on any of the above photos for larger version, remember to use your browser's back button to return.