Northern BC CANADA Fishing
Capt. Noel Gyger
October 4, 2011
Terrace - Freshwater Fishing Report

Fishing Report from Noel Gyger http: www.noelgyger.ca for Monday October 3, 2011
Smithers, Terrace, Kitimat, Prince Rupert and Meziadin North
Current LIVE Fishing Report can be read anytime 24-7 at: http://www.noelgyger.ca/current-fishing-reports.htm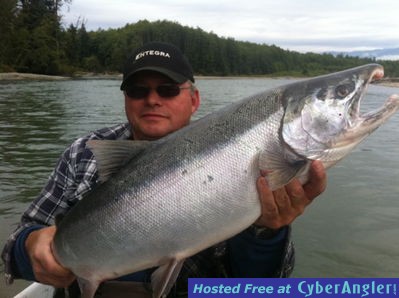 Skeena River: The river is fishing very good for Steelhead and Coho around the Terrace area. My friends and I fished on the Skeena yesterday for Steelhead and Coho. We did great, although our land-lose ratio was not very good. We went 6 for 16....means we hooked a total of 16 fish. Lost 10 and landed 6 of which 2 were Coho and 4 Steelhead. I'll try and cut a video but not sure if I got enough good footage. The weather today was excellent, mostly sunny and no wind. Water had a tint of colour but the fish did not seem to care and keep attacking our tackle. We also landed a bunch of Dolly Varden Char...or Bull Trout. It was just a wonderful day. Hope to do it again soon. Reg: all wild Steelhead everywhere in British Columbia are catch and release.
Kalum River: Lower end is still high but some would say borderline fishable now. The upper end is dropping and is borderline fishable. The lake is colored. It is going to take quite awhile for the lake and river to totally clean out. Theory: Under these conditions the fish cannot tell the difference between debris to your terminal tackle. Fact: Coho and Steelhead are coming in now! How to: This is a good river to float fish a Pink Worm or Gooey Bob.
Lakelse River: The water is dropping and very clean. Coho are coming in now but NOT in huge numbers. This is ''prime-time'' for Coho but the fish just are not there in any good numbers. Pinks are in good numbers and most are spawning everywhere. The Bears and the Birds are having a feast.
Zymoetz (Copper) River: Water is dropping and cleaning. Facts: Last year we had a record run of Steelhead, lets hope at least we have another good run this year. The fly rods work extremely well in this river.
Kitimat River: Kitimat River is still fishing well for Coho.
Kasiks, Exchamsiks and Exstew Rivers: are fishing well for Coho.
Douglas Channel: NOTICE: DFO closes recreational halibut fishery as of Sept. 5. The Douglas Channel is still producing some Coho but it is a situation of being in the right place at the right time. Most of the Coho will be migrating to their spawning rivers but can still be caught by the Saltwater anglers. We also received reports of Bottomfish still being caught further down the Douglas Channel. Weather conditions will start to be more of a factor but fishing for Coho and Bottomfish in the Douglas Channel can still be very productive. Dungeness Crab trapping this time of year is usually very good as the Crab are stacking up at the river/creek mouths expecting a feed of dead spawned out salmon.
Lakes - Smithers: Lake fishing in the area is still very good. Fishing for rainbow trout and lake trout has been very productive.
Morice River: The Morice is high and dirty. It has snowed there today as well. 3 inches of snow striking to the ground.... If it warms up....
Bulkley River: The Bulkley River is ''fishing''. 2-3 feet of visibility. Fish tight to shore and light..... It is snowing at higher elevations so the river could come up again in a flash.... if it warms up.
Kispiox River: Borderline fishable at the bottom. Better higher up. Some fish caught. Busy place...
Babine River: Babine is dropping bit by bit. Cohos and Steelhead are being caught
Babine Lake: Babine Lake is still producing lots of fish. The limit has been increased to 4 fish on the lake.
Noel Gyger
Guided Fishing Adventures & Fishing Report
E-mail: [email protected]
Phone: 250-635-2568
Website: www.noelgyger.ca
Sign-up for Fishing Report notification: http://www.noelgyger.ca/subscribers_form.htm for Smithers, Terrace, Kitimat, Prince Rupert & Meziadin North
''You meet the nicest people on the river banks''

More Fishing Reports: