Northern BC Canada Fishing Report December 13, 2011
Capt. Noel Gyger
December 14, 2011
Terrace - Freshwater Fishing Report

Fishing Report from Noel Gyger http:// www.noelgyger.ca for Monday December 12, 2011 Terrace and Kitimat
Current LIVE Fishing Report can be read anytime 24-7 at: http://www.noelgyger.ca/current-fishing-reports.htm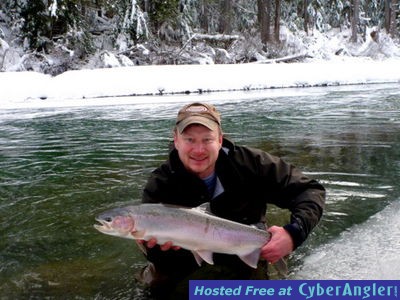 Commentary: The cold temperature and heavy snow falls have made the fishing difficult but not impossible. If you go stay warm and dry and be safe. Good Lucků
Skeena River: Water is clean. Some great Steelhead can still be had. Plus some good Trout Fishing. Reg: all wild Steelhead everywhere in British Columbia are catch and release.
Kalum River: Both the lower and upper sections are in good shape. A good run of Steelhead is in the river now. I have reports of some good catches.
Lakelse River: The water is in good shape and fishing for Steelhead, Trout is fantastic.
Zymoetz (Copper) River: Water is in good shape but lots of snow to contend with. Too bad as the Steelhead fishing has been excellent. Facts: Last year we had a record run of Steelhead, let's hope at least we have another good run this year.
Kitimat River: Fishing for Coho closes today October 31, 2011. All that is left to do now is fish for local Trout.

More Fishing Reports: