Fishing Report Ucluelet BC, June 2, 2014
Capt. Sam Vandervalk
June 3, 2014
Ucluelet - Saltwater Fishing Report

BC Fishing the past few weeks has been very good. The Chinook fishing have averaged 10-20lb range as well as Coho, and Halibut. The Chinook fishing has been great at South Bank, Great Bear, Sail Rock, and inside Barkley Sound off the West Coast of Vancouver Island.
The HOT lures offshore have been glow hutchies and 4-inch coyote spoons. The Coho have been biting at everything. We have been pleased to see Coho out this early in the season in decent numbers. In our Halibut fishing, we have found South Bank, Lighthouse Bank and Long Beach Bank great places to fish.
See the below pictures taken in the Pacific Ocean from our fishing adventures here in Ucluelet, BC the last few days!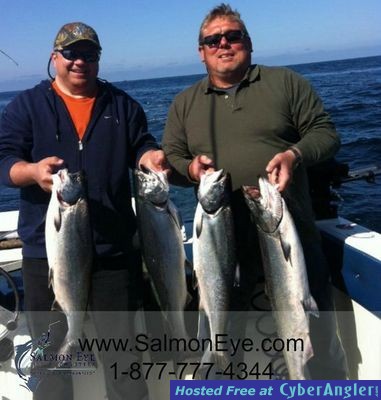 Ucluelet Fishing Forecast:

Great!
Target Species:

Chinook, Coho, Halibut
More Fishing Reports: