Conditions to improve as Run - Off slow down.
Capt. Scott Taylor
June 14, 2016
Pagosa Springs - Freshwater Fishing Report

This is the spring that I am wondering, when will the spring run – off end! The town stretch of the San Juan is at 1,440 cfs this morning and is finally stepping down from 2,500 cfs on June 7th. The Piedra is also coming down. Flows are at 940 cfs and were at 1,700 cfs on June 7th. Below the dam on the Lower San Juan the flows are at 4,100 cfs this morning and I think they will be on the high side for quite a while.
Today I am going to go up to the Piedra and check it out, usually when the Piedra is below 1,000 cfs (in Arboles, by the lake) it is fishable up high. The run – off will also slow down this week with cooler temperatures (39 degrees this morning) and 75 for the high.


Below the dam we have been doing some wade trips, the parking lot looks deserted after the boat trailers are shuttled downstream. With the high flows there has been very little pressure. We have a bunch of holes that fish well, some take a bit of work to get to. Parts of the road on the way to the upper flats are mid – thigh deep, making it a work out to get up there. We have even caught a few fish on the road bed. If you are fishing down above the T Hole, I would use larva's (red, olive, cream) much longer than normal. On a stomach pump last week at 1:30 pm, it was all larva and one pupa. We also stuck a few on hoppers, but nothing has really been looking up.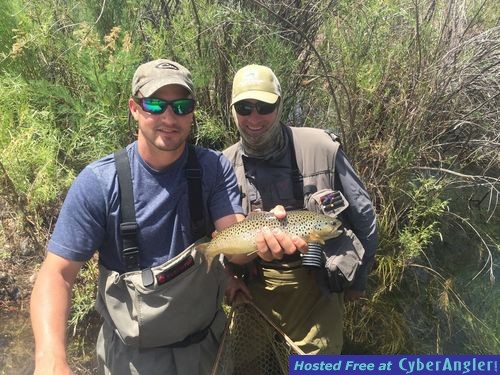 The few streams we have been fishing around town, are still slightly off color but have been producing some very healthy fish. Best patterns have been Copper n Hare, and Pink Squirmy Worm. You can get them at Let it Fly. In the shallower water it has been Hopper Dropper style, or using an indicator.
For Florida Fishing visit http://laidupcharters.com
Scott Taylor
http://highcountrycharters.com
970-946-5229
While you are in town make sure that you visit the following businesses!
Need Fly Fishing gear? See Pop's
Let it Fly
Located Downtown Pagosa Springs, across from Kip's.
970-264-3189
http://www.flyfishpagosa.com
Hungry for Adventure?
Pagosa Outside Adventures - Rafting, Biking, Kayaking, Tubing
Downtown Pagosa Springs
970-264-4202
http://www.pagosaoutside.com

Pagosa Springs Fishing Forecast:

July is looking great!
Target Species:

Trout
More Fishing Reports: