Fall Fishing in Colorado
Capt. Scott Taylor
September 16, 2010
Pagosa Springs - Freshwater Fishing Report

The fall fishing forecast is very good. Water levels are higher than the y have been in years for most drainages. The monsoon season was tough for a week or two with high water, but should pay off with some great fall fishing. We have already had some mornings with the temps around 38 degrees, and mid-day highs around 75 – 80. Nice comfortable days and great sleeping weather.
The fish on all of the mountains streams are still aggressively taking dry flys, on some of the deeper holes a dropper is needed for the larger fish. Most of our trips on the high country steams have been fishing the best between 11 and 3 pm. Most of our guests want to get an early start, but the bugs aren't up yet! With the temps getting cooler it takes a while for the bugs to get active. If you start too early, the fishing will be getting hot, about the time the trip is over.
The water levels below the dam have stabilized after a several weeks of up and down. Now it is time for the BWO'S to get active and provide some great dry fly fishing. The fish have still been looking up to dead chickens, black stimulators, hoppers, and small midge patterns. You just have to find the right fish. Often it is the right group of fish. You will find a pod of fish eager for one pattern, and then the next group will ignore your offerings. Just keep working them, if you want to cheat a little, add a midge emerger and grease the line up to 3 inches from the dropper.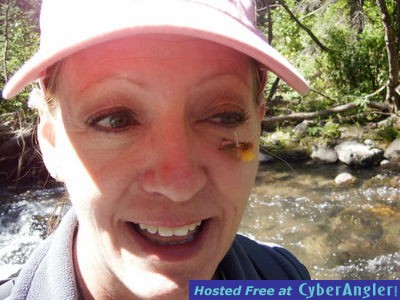 October is also usually a great pike month, they are often like bears. Eating all day, preparing for winter. The last few years October has produced some very big fish, and lots of 20 – 30 fish days. If the lake levels stay close to where they are at now, it should be good. It should also make for a good duck season.
Fishing reports are not always about fish pictures and big fish.
Pagosa Springs Fishing Forecast:

Waters levels are good, fishing should be great in October.
Target Species:

Trout, Bass, Pike, Carp
More Fishing Reports: