Fishing The San Juan River
Capt. Scott Taylor
May 19, 2010
Pagosa Springs - Freshwater Fishing Report

The fishing below the dam on the San Juan has been very good. Most of the action has been on midge patterns (brown, gray, black, and olive), some chocolate foam wings, and red young bloods on the lower float. The flows are at 450 and are expected to stay there. Below is a picture of Kyle with a monster bow.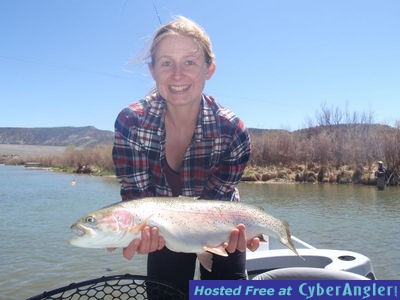 Navajo lake has been getting better as the water warms up. Two days ago I was still getting temp readings of 57 – 59 degrees. The crappie reports are coming in, and I am hearing of some good catches. Anglers are also catching crappies off of the tires at Navajo Marina on the Colorado side. We have been getting into a few pike on the fly last week. One was a fat 13 pounder, but they are still tough to get to eat a fly. We also got into a several carp on the fly. They were eating olive hares ears, fished in the film. A few more warm days and the pike should be willing to chase flies!
Run off is in full swing, in the high country. Even with the run off the Blanco is fishing very good, no big hatches yet, but they will be here soon. Princes and bead heads have been very good. They haven't been picky. Below I am holding a nice rainbow from the Blanco.


Tech tip
Fishing dropper rigs on high country streams!
I often see anglers using their dropper rigs, without changing anything. They make their set up and leave it. They might change the dropper, but that's it. As a guide fishing on public waters, I often have to fish behind other fisherman, or let them fish through a hole. If I get to a nice hole more than 3 feet deep, I will change my point fly's location. I will move it up, and increase the dropper length. Some times I will have a 4 foot dropper, with only a 9 foot over all length. Don't make the mistake of just adding a 4 foot piece of leader, and having an over all length of 13 –14 feet. You do not want to sacrifice a sloppy cast. Doing this I often get into fish that other fisherman have just fished for with out any success. When I move to a new stretch, I will switch back to my standard set up. Point fly at 71/2 or 9 feet, and dropper 15" to 24"s behind that. So don't be lazy!
Steve is headed to FL on Sat. to chase Tarpon with Barry Simmers of Colorado Fishing Guides. They will be fishing at my old stomping grounds of Pine Island Sound, near Boca Grande Pass. The water temp is 81 and the Hill Tide will be in full force next week. They should have a great trip.
I am headed north to Alberta to chase spring bear with the bow, and to find some hungry pike. This Saturday is the first day of the fishing season for the lakes we will be near, the fishing is generally very good this time of year. Jeff and Tom will be holding down the fort and ripping some lip while we are gone.
Scott Taylor
http://highcountrycharters.com
970-946-5229
While you are in town make sure that you visit the following businesses!
Need Fly Fishing gear? See Pop's
Let it Fly
Located on Put hill, just West of Downtown Pagosa Springs.
970-264-3189
http://www.flyfishpagosa.com
Hungry for Adventure?
Pagosa Outside Adventures - Rafting, Biking, Kayaking, Tubing
Downtown Pagosa Springs
970-264-4202
http://www.pagosaoutside.com
Pagosa Springs Fishing Forecast:

The pike will get more active on the North end of the lake with warmer temps.
Target Species:

Trout, pike and carp on the fly!
More Fishing Reports: