Great Fall Fishing in SW Colorado.
Capt. Scott Taylor
September 23, 2016
Pagosa Springs - Freshwater Fishing Report

Fall is Here, and so is the first snow!
The fishing has been very good lately, but not all day. With colder temps (mid 40's) the high country streams have been a slow start. So we have been starting later to stay on the bite. The bite, in the mountains, is when the insects start to get active. When we get the first few cold nights the nymphs are not moving around, and neither are the fish. One day when we went up high, due to muddy water lower, the stream temp was 39 degrees at 10,000 feet. We found a few pods of non-feeding fish wadded up in a ball, the size of a basketball. It was pretty neat to see. Compare that to the fish on the Lower San Juan that enjoy temperatures of 38 – 44 degrees year round. 10 o'clock in the morning till 4 has been very good.
Both of the private properties have fished good to great this year. The section on the Navajo at Spear R U Ranch has completed the entire 3 mile stream restoration. This is going to be a great improvement for the ranch, and they will be rewarded with some excellent fishing in the future, even in low water years.
Now that fall is here, it is time to head to the Florida Everglades and chase some Snook, Redfish, and Tarpon. I will be down there till mid – November.
Here are some fish pictures.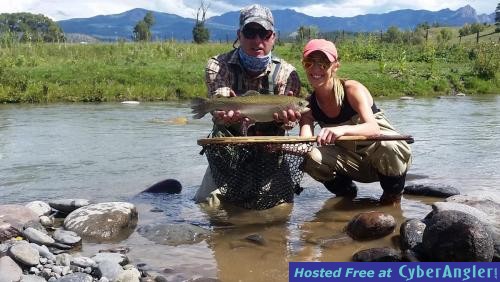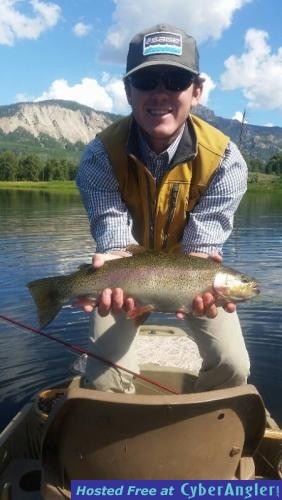 Make sure to visit the Laid Up Charters web site (http://www.laidupcharters.com).
.
Scott Taylor
http://highcountrycharters.com
970-946-5229
While you are in town make sure that you visit the following businesses!
Need Fly Fishing gear? See Pop's
Let it Fly
Downtown Pagosa Springs, across from Kip's
970-264-3189
http://www.flyfishpagosa.com
Hungry for Adventure?
Pagosa Outside Adventures - Rafting, Biking, Kayaking, Tubing
Downtown Pagosa Springs
970-264-4202
http://www.pagosaoutside.com

Need Ski Rentals?
Pagosa Ski Rental (PSR)
Downtown Pagosa Springs
970-264-2866
http://www.skipagosa.com

Pagosa Springs Fishing Forecast:

Looks good until we get ICE..
Target Species:

Trout
More Fishing Reports: