Great Trout Fishing in Pagosa Springs, CO
Capt. Scott Taylor
October 24, 2010
Pagosa Springs - Freshwater Fishing Report

The fishing has been very good in the Pagosa Springs area. In the last two weeks we have done a bunch of trips on the smaller streams. All of the fishing was the most productive from noon till about 4 o'clock. Some of the mornings have been below freezing with snow in the upper elevations. No need to be the first out, not only for insects to get active, but because the streams are empty of the summer anglers! Para Adams, Caddis, Irresistible were all working on top. If we needed a dropper BH Princes, Pop's Turd Fly, Hare's Ears, and PH Tails all did fine. Most of the time after 12 pm we would spot the fish on the tailing end of the pools, just sight fishing. If we got a good cast in there, they would pound it! It has been lots of fun.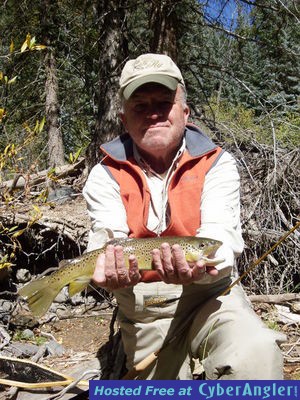 Below the dam, on the Lower San Juan, the BWO's are pretty active. We have been doing well with both wade and float trips. Some guys have even wanted to just use dry's all day, which can be tough unless conditions are right. The fishing with dry's is more consistent after 11. Try the back channels and cover some ground, you have to find the right fish. Tiny midge clusters and the 22 no-hackle have been the best. We also rigged the no-hackle with a midge cluster or a fluff baetis.


My wife and I are headed to the Everglades to fish with Capt. Kevin at http://www.snookin.com for a shot at some fall tarpon action. Hopefully the weather works out for us, if not we will chase reds and snook in the glades!
Below is a picture of Steve Baird's permit! He just got back from Belize, good thing hurricane Richard is hitting there today. Steve also jumped 22 tarpon, only landed a few but had a blast.

Pagosa Springs Fishing Forecast:

BWO'S for another few weeks on the Lower San Juan, Snow is starting to fall in the High Country.
Target Species:

Trout, bass, pike
More Fishing Reports: