July fly fishing in Pagosa Springs, CO.
Capt. Scott Taylor
July 25, 2013
Pagosa Springs - Freshwater Fishing Report

The fishing continues to be very good. There have been a few days where some of the local waters were muddy, but we still found clear water on some of the different drainages that we are permitted in. Going up Trukey Creek tomorrow. Turkey was just re-opened by the forest service, now that the fires are under control.
Here are some photos from the last week or two, and also remember we are booking flats fishing trips in Oct. and Nov. in the Everglades.


The main targets in the fall are Redfish & Snook.

Nice Brown Trout from Sunset Ranch.


Awesome Cutthroat Trout.


Elaine McCoy @ Sunset Ranch.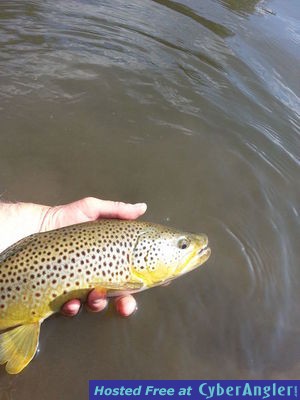 Scott Taylor
http://highcountrycharters.com
970-946-5229
While you are in town make sure that you visit the following businesses!
Need Fly Fishing gear? See Pop's
Let it Fly
Located on Put hill, just West of Downtown Pagosa Springs.
970-264-3189
http://www.flyfishpagosa.com
Hungry for Adventure?
Pagosa Outside Adventures - Rafting, Biking, Kayaking, Tubing
Downtown Pagosa Springs
970-264-4202
http://www.pagosaoutside.com
Need Ski Rentals?
Pagosa Ski Rental (PSR)
Downtown Pagosa Springs
970-264-2866
http://www.skipagosa.com

Pagosa Springs Fishing Forecast:

The fishing should be good thru the fall, now that it is cooling off and the afternoon rains are here.
Target Species:

Trout
More Fishing Reports: