Los Suenos & Jaco Costa Rica Fishing Report -Giant Mahi - Mahi!
Capt. Josh Foster
October 22, 2008
Los Suenos - Saltwater Fishing Report

Pura Vida from the Fishing Capital of Costa Rica, Los Suenos & Jaco Beach. While the Sailfish bite has been slow during the months of September and October, which is normal, the Mahi-Mahi bite is on fire!

Hooked on Costa Rica's guests have been catching big numbers of giant Mahi-Mahi per trip, with a 30lb average and plsnt of 50 and 60lb bulls being battled and landed. Several nice Sails have been caught along with a few Marlin and Wahoo.

We are all getting ready for the beginning of our strong Black and Blue Marlin run which starts in Mid-November and runs through late January,rite through the start of our Peak Sailfish season.
If your'e planning a trip to Costa Rica, plan carefully and remember there are more trophy fish caught year-round out of the Los Suenos region than ANY other part of the country.Now add the fact that there is more to see and do in the Los Suneos-Jaco Beach area than any other destination on Costa Rica, and it's easy to see my more people choose to Fish & Travel here than anywhere else.
We are proud to be the #1 Fishing & Travel Outfitter in Costa Rica.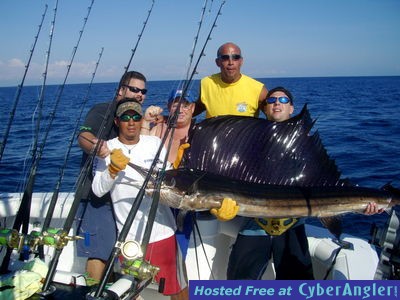 Los Suenos Fishing Forecast:

November-December-January- Strong Run of Black & Blue Marlin.
December through May- Peak Sailfish Season with 10-20 releases per day, per boat common.Plenty of Marlin, Giant Mahi-Mahi, Yellowfin Tuna, and wahoo will be caught during this time as well.
Get on the right boat!- We know who they are and who gets it done! Contact us to make sure you don't just go for a boat ride!
The top producing Captains and Boats make up the Hooked On Costa Rica fleet
Target Species:

Sailfish,Marlin,Mahi-Mahi,Tuna,Wahoo,Roosterfish,Grouper,Snapper
More Fishing Reports: