Fishing Salinas
Capt. Luis Gomez
March 4, 2016
Salinas - Saltwater Fishing Report

One of the best times of the year to fish in Salinas has always been after New Year's Eve. We have seen year after year outstanding catch reports from this destination, ranging from 300 lbs' Big Eye Tuna to a 1.000 lbs Black Marlin a couple of years ago. And thanks to the fishing Gods who seem to still love these waters, we have had a spectaculat begining of the year, yet again.
First we had a group of 4 friends from Toronto, Canada fishing with us who fought hardly with a Grander in the morning but were not able to raise it after a 1 hour fight. They did manage to get many Mahis on board and got a nice photo of one of them.


Afterwards we had an incredible day very close to the Puntas area. We managed to land and incredible 18 Sea Bass. It was one of those days you end up with a sore arm at night unable to lift the beer bottle.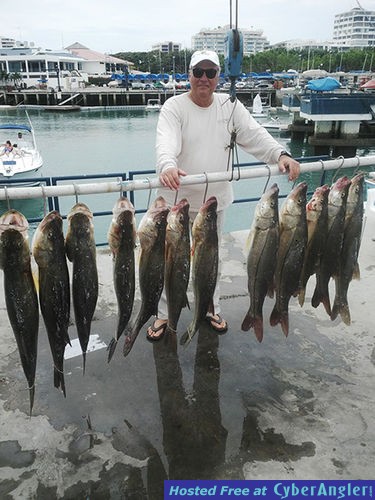 Finally, we had a very large group of friends from West Vriginia on their yearly fishing trip. They were one of the most fun groups we have had a chance to come across. They really enjoyed not only the fishing but the sightseeing tours to the northern beaches like Montaņita. They also landed this spectacular Blue Marlin at 300lbs which died after a good fight for over 45 minutes so they brought it back


What a beauty... And now we are in the middle of the Salinas season which we expect to last until May
Who knows,..... The next one on those photos might be you....
Buena pesca amigos and tight lines!!!
Capt. Luis Gomez Jr.
BLUEMARLIN ECUADOR
http://bluemarlinmanta.com/news.htm
More Fishing Reports: