Early February Fishing
Capt. Rick Gross
February 5, 2013
Anna Maria - Saltwater Fishing Report

February is a transition month for us here in southwest florida. Early in the month we are still in a winter pattern but by the end of the month we can be in a full blown spring pattern. We have not had much of a winter this year so it looks like we may be in for a early spring.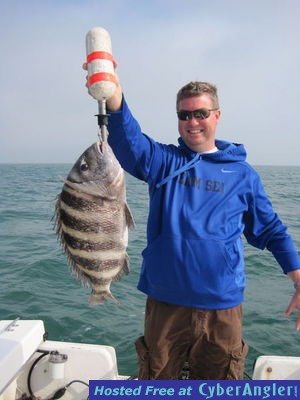 Sheepshead are always a good target this time of year as they get ready for there annual spawn. This is when the big breeders get together in large schools. Docks and bridges next to main passes are a good place to start looking as well as any artificial reefs in the area. A jig head with a piece of shrimp is all that is needed. The trick to catching these bait stealers is to not jerk on the first tap but to wait until you feel weight on the line.

Pompano have been around all winter and should be in better numbers on the beach as the month goes on. A doc's goofy jig is the way to go on these fish. If you like live bait small shrimp and sand flea's are hard to beat off the beaches.

Trout fishing in our area is the best I can remember. Both in size and in numbers of fish to be caught. If the day is mild and the wind is down set up a drift on any grass flat from four to six feet of water. When you find a school set out a marker or punch the number in your gps.
Good Fishing!
Capt. Rick Gross
941-730-5148
Target Species:

Sheepshead, Pompano, Trout
More Fishing Reports: