Biscayne Bay August report 2008
Capt. Raul Montoro
August 28, 2008
Biscayne Bay - Saltwater Fishing Report

For the past week and a half we have had pretty lousy weather conditions due to tropical storm Fay. I had a trip the day before the storm was supposed to arrive and I expected the fishing to be good, but the full moon the night before and the wind blowing 25 and gusty didn't help much. The fishing was slow and the storms ran us off the water by noon.
The next several days were miserable and all I can think about was getting back on the water. I get a call from my good fiend Capt. Randy Stallings from Islamorada and asked me if I wanted to do some scouting after the storm and see what was going on. I said I'll be there in the morning.
Wednesday 8/20 as I expected the wind was still blowing 20 and the water was dirty. We did manage to find some bonefish, but nothing to brag home about. I said give it a few day's and the fishing is going to turn on.
Friday 8/22 I fish Biscayne Bay and sure enough the wind is still blowing hard out of the South East. The morning bonefish bight was slow so I tell my guys lets go bend the rod and make the best of it. I took them to a nearby creek were we started pulling out 20' Mangrove Snappers and mixed in were eight to ten pound yellow jacks. For those of you who have never caught a 20' snapper or a big yellow jack on light tackle you don't know what you're missing. There strong fighting fish that pull drag and are a blast. Sometimes conditions aren't right and the glammer species are not around so you have to make the best of it.
Sunday 8/24 Finally! We have perfect conditions and I called by good friend Capt. Jim Hobales and I tell him lets get out for a couple of hours and see if we can catch a bonefish or two. Jim meets me at my house at 5:00 am and we head off to the boat ramp. Within Five minutes of putting the boat in the water we were covered in permit and tailing bonefish. I new it was a matter of time after the storm that the fish were going to show up and start feeding again. We had several shots at permit, but they were acting very skittish and didn't want anything to do with us. We then decided to go after bonefish in the same spot and Jimbo made a text book cast with a shrimp on some tailing fish and caught this beautiful 9 lbs Biscayne Bay Bonefish.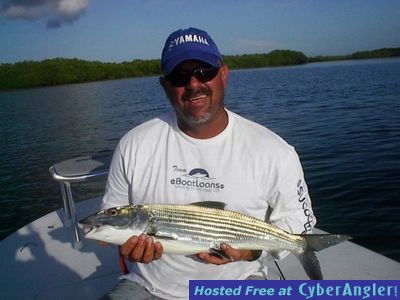 Wednesday 8/27 Fished Biscayne Bay in search of Permit and Bonefish. We had Great conditions and I knew the fishing was going to be hot. I had Capt. Randy with me again from Islamorada, but this time he was fishing my home waters. This is the time of year where guides have allot of time on their hands, and it's a good time to get some fishing in with your friends. We don't get to fish as much as people think so getting some bow time once in a while is always a good feeling. The morning bight was slow until the mid morning. I get on an ocean side flat with good moving water and I tell Randy that the permit fishing in going to be good. As soon as I get grab the push pole and get on the poling tower within five minutes Randy is hooked up to a nice permit. I landed the fish for him take some snap shots and It was my turn. Literally within ten minutes I'm hooked up and ten minutes later another permit in the boat. Randy's turn and it slowed down a bit and I was already on the move to another spot. I'm poling off the flat and I spot another permit swimming the channel edge. Randy make a great cast at the fish and within minutes we had number three in the boat. The bight slowed down after that and we called it a day by 1:00.

Today Thursday 8/28/08 had a half day trip out in Biscayne Bay again and I had Permit on my mind. I tell my customer the permit fishing has been hot and he said that's all he wants to target. With the day before being so good I new today was going to be the same or better. Sure enough we get on the same flat and the fish were their. We had plenty of shots and managed two permit by 10:45 and we were back at the dock by 11:00.


This is a great time of year to fish and I know I say it all the time, but if you want to permit fish now is the time. Give me a call and let me show you what Biscayne Bay is all about.


Capt. Raul Montoro
www.biscaynebayfishing.com
(786) 390-9069
Target Species:

tarpon, bonefish
More Fishing Reports: