Biscayne Bay Heats Up!
Capt. Carl Ball
January 21, 2010
Biscayne Bay - Saltwater Fishing Report

After ten plus days of colder than normal temperatures here in South Florida, the bonesfish, permit and tarpon are making a comeback.
Monday, Rob Lynch went 2 for 5 on tarpon in Government Cut. The biggest was about 60 lbs.
Tuesday, Rich Schuster caught a 50 lb tarpon in the cut. Fishing down south was not as productive as I had hoped. We saw some bones and permit. We just didn't get the right shot at them. The visibility was a little tough and we just didn't see them soon enough.
Wednesday, Gene Conroy and friend Greg had a pretty good day. Greg caught a 25 lb tarpon on our first drift but then couldn't get a bite. The tarpon were there, but I just couldn't make them eat. At the first bonefish spot there was a big school hanging around so we feed them some live shrimp and got 2 to the boat. Later we had more shots at bonefish and caught a small lemon shark to round off the day.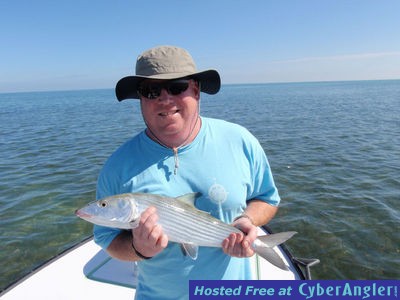 More Fishing Reports: