Biscayne Bay Miami Flats Fishing
Capt. Carl Ball
September 8, 2010
Biscayne Bay - Saltwater Fishing Report

Flats fishing in Biscayne Bay has been good all summer. I have had customers catching bonefish permit and baby tarpon pretty regularly.
Recently, Bill and Julian Cohen caught 3 bonefish using live shrimp. They also had some shots at permit but couldn't get the bite.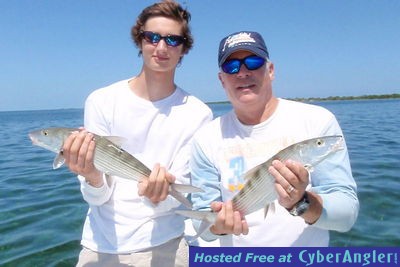 Mike Wedel was lucky enough to catch this nice 7 lb bonefish on a live shrimp as well. This was his first time flats fishing. He also lost a baby tarpon at the boat and had a couple other bites. He found permit but was unable to seal the deal.
Jody Moore fished with me Labor Day Sunday and went 2 for 3 on bonefish with the fly rod. We found a nice school of the bones and he was able to get them to a small crab pattern.
Biscayne Bay Fishing Forecast:

There has been a bunch of bait around. The mullet run will be starting any day, with a report of some schools already showing up on the beaches. The snook and tarpon are still on the beach. Bonefishing and permit fishing will be good through the fall.
Target Species:

Bonefish, Permit, Tarpon
More Fishing Reports: