Biscayne Bay Miami Flats Fishing October
Capt. Carl Ball
October 27, 2010
Biscayne Bay - Saltwater Fishing Report

Fall is always a slow time of the year for me. Not many people from up north down for vacation and I tend to take a little time off for myself. It's this time of the year that makes me realize just how important it is to be on the water everyday to keep up with what is going on. The fish are there and I have been in them, but not to the extent I am from January to August.
I had Rich Schuster and friend AJ out for some bonefish chasing and tarpon hunting. We wound up with a pair of little guys and broke off a one that looked like a 10+ lber to me. We also went 1 for 3 on baby tarpon and missed 2 snook.
Gene Conroy and his wife Linda joined me for a day. We caught a bonefish and one baby tarpon.
This past Saturday was the Bonefish Tarpon Trust and Univ. of Miami annual bonefish census. I had Mike Larkin, biologist for UM, out for the day. The bonefish were scarce and we only managed to get this one 3 lber. I really enjoyed the day with Mike though. As you can imagine he is very knowledgeable about bonefish. As always I learn something new about bonefish and there behavior.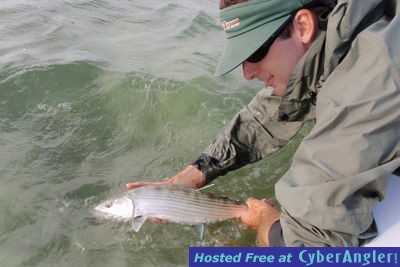 Biscayne Bay Fishing Forecast:

November starts the beginning of the winter pattern of fishing for me. The big tarpon are making a show and the bonefish will be doing their thing. Permit fishing will get a little tougher but there will be some nice fish around.
Target Species:

Bonefish, permit, tarpon, snook, sharks.
More Fishing Reports: