Fish Kill in Biscayne Bay
Capt. Carl Ball
January 14, 2010
Biscayne Bay - Saltwater Fishing Report

Yesterday I fished in Biscayne Bay, mainly to see the effect the cold temperatures had on the fish. I heard that this was the longest and coldest cold snap South Florida has seen in 80 years. I don't recall anything like it in my lifetime. The water was a cold as an Alaskan stream in the summer.
I couldn't imagine there would be much going on with the bonefish, permit or tarpon. Maybe not even anything. I soaked some shrimp on the bottom and tossed out some chum in various spots. It was surprisingly easy to find lots of fish the problem was that they were floating by the boat. The cold had really done some damage. Most of what I saw were small Lane Snappers, Grunts, Mangrove Snapper, Boxfish and one 20" Grouper. We never got a bite all day. From anything! We used the same untouched shrimp at all four of the spots I tried. Most of the dead fish were around the Ragged Keys area and with the falling tide they were pouring out of the bay. With the steady north wind I figured the dead fish would get pushed to the south end of the bay. I didn't see any dead fish around Key Biscayne. However, I did hear of lots of dead fish washing up on the banks of North Biscayne Bay.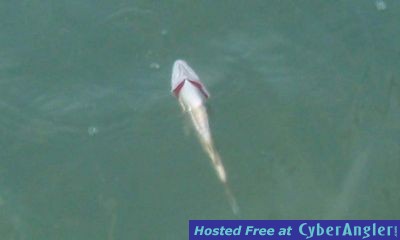 The picture of the dead bonefish in the cooler is From Mike Larkin at Univ. Of Miami, who runs the bonefish and tarpon tagging program sponsored by BTU. He collected them in the upper keys just the other day. On the bright side he noted that it was mostly small fish.
The weather forecast for next week is looking better. I'm looking forward to normal temperatures with lows in the 60's. That should make the fish much happier too.

Target Species:

bonefish, permit, tarpon
More Fishing Reports: