Big tides great fishing!
Capt. Raul Montoro
October 2, 2008
Biscayne Bay - Saltwater Fishing Report

It's been a couple of weeks since my last report and the reason for that is because I was out of town on vacation. We were have some really bad weather do to all of the tropical storms and hurricanes, that I decided to go to Montana and do a little fishing and hunting. For those of you who have never visited big sky country it's a must do on your to do list.
I just got back on Wednesday and had some trips booked up and it was back to work. I fished with bill scrubby and his dad Rob and headed to Flamingo. The weather was perfect and the fish were feeding. There is lots of water all over the park as well as Biscayne Bay and the Keys. September and October have the strongest tides of the year and it has enables me to get into some areas that I would normally have to use my smaller Hells Bay skiff to get into.


The Tarpon are all over the outside of Flamingo and the early morning bite has been on fire. The snook and reds have been mixed in together and they have been eating flies and artificial really good. It's all up to you to make the right cast in the right place to get them to eat. The sight fishing in flamingo is really good right now and this is a great time to get out there and fish.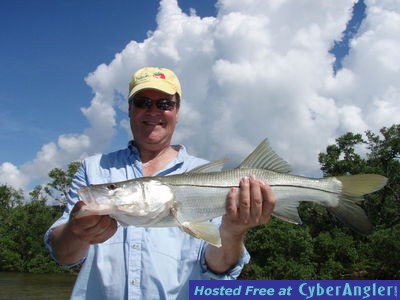 Fished Yesterday out of Key Largo to do a little permit fishing and the fish were there. It was a half day afternoon trip and we managed three for three on permit. You couldn't ask for a better afternoon.


Since I just got back from vacation I only have a couple of day's on the water since I got back, but I will have another report next week.
Capt. Raul Montoo
www.biscaynebayfishing.com
Target Species:

Tarpon, bonefish, permit, snook, redfish
More Fishing Reports: