Awesome snook action!
Capt. Danny Latham
March 6, 2011
Boca Grande - Saltwater Fishing Report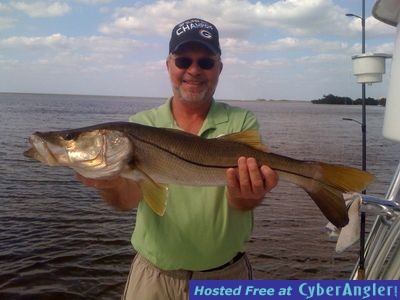 The first week of March was really good. The warm weather has got the fish ready to eat. Lots of nice snook up to 35" came into the boat this week and I had multiple 20 plus snook days. On top of that the reds are showing up and starting to bunch up a little into schools of 50 plus and I took full advantage of them being hungry. The big gator trout fishing this year has been some of the best I've seen with multiple fish over 25" this week.
Boca Grande Fishing Forecast:

This February has been just beautiful. Temperatures in the upper 70's and even 80's have really gotten the fish in the mood to eat. Scaled sardines, aka whitebait, has begun to show up and the fish are really liking it. I've already enjoyed some 30 plus snook days and have been catching some really nice ones. The redfish seem to be just as happy to eat the sardines as well and the big trout just can't get enough of it. March is shaping up to be spectacular!!
Redfish action should continue to improve in March. The end of February provided some really good days. I'm beginning to see a lot more schools and bigger schools of nice reds. The lower winter tides and cooler water temperatures had forced most of the baitfish to move off the flats into deeper water but the warm weather we've enjoy this winter has got the bait back on the flats. The reds are still readily eating shrimp but sardines, pinfish and cut bait are all working well. As far as artificials are concerned I like to throw plastics like Mirrolure Little Johns and Reaction Strike Jerk Jr on jigheads in the holes and rigged weedless across the grass on higher tides.
This February has produced some of the best trout fishing I've seen in many years. A lot of trout in the 3-4 pound range were caught and fish over 6 pounds and up to 9lbs have been caught. The ability to get a livewell full of sardines should produce even better numbers of gator trout. January through April is with out a doubt the best time to catch some BIG Gator Trout. While fishing the grass ledges, potholes and oyster bars looking these big trout you will be amazed at how many different fish you may catch. Trout, Redfish, Snook, Pompano, Flounder and Sheepshead are all a possibility and 40 - 60 fish days are not uncommon. All that rod bending action makes for a really good time! My favorite lures are the Mirrolure Lil John, Reaction Stirke jerk Jr and FishBites 3" paddle tail. All rigged on an eighth or a quarter ounce jighead.
The warmer weather we've enjoyed the February has really got the Snook bite going and they are really chewing. I have caught some really nice fish so far this year and expect the snook fishing to get even better as March unfolds. Snook have already begun to move from the protection of the backwater creeks and canals as they begin to migrate toward the the barrier islands. These fish have been more than eager to see a livewell full of scaled sardines and March snook fishing should be awesome. For you night owls, the night time Snook fishing around the lighted docks in Punta Gorda, Ft. Myers beach, Little Gasparilla and Boca Grande may be your best bet for some January Snook action. Smaller lures like Mirrolure 3" Soft Sardine, DOA shrimp and Reaction Strike 3" Fluke Jr. sholud all be good choices for for catching winter time Snook. Please remember that Snook season will be catch and release only until at least September 2011 .
The nearshore fishing is really going to heat up soon. The Spring migration of baitfish has begun and is usually followed by hordes of hungry sharks, spanish mackerel, kingfish, snapper and cobia. I'm already seeing a few spainish mackeral and some really big sharks. These fish aren't here in full force yet but they will be in the next few weeks.
Whether you want to catch the fish of a lifetime or just relax with friends, you can count on Reelfishing charters to put together the ultimate Southwest Florida experience! Capt. Danny is the guide that will bring everything together for a fun, exciting fishing charter that you'll remember.
Reelfishing is a Fort Myers fishing charter as well as a Boca Grande fishing guide service. We pick up at several locations around Southwest Florida including Burnt Store Marina, Pineland Marina, Placida and the Boca Grande guide docks. Other arrangements can be made if necessary. We try to make fishing with Reelfishing charters as easy as possible.
Catch Fish, No Excuses!
Target Species:

snook, trout, redfish
More Fishing Reports: