Boca Grande Fishing Charters September Forecast
Capt. Danny Latham
September 6, 2012
Boca Grande - Saltwater Fishing Report

Wow! That just about says it all about the fishing right now! The flats fishing, for Redfish, Snook and Trout, has been phenomenal and the Tarpon fishing continues to be surprisingly good. If you're looking to catch a bunch of fish or pull on a giant Tarpon September is a great time of year.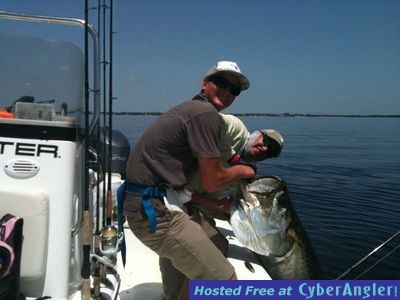 The Boca Grande Tarpon Fishing has been very consistent this summer. After hurricane Isaac passed by our coast most of the tarpon left the harbor and went out on the beach and Boca Grande pass. They have started to move back in and they're hungry. I am averaging 2-5 hook ups a trip, which is pretty good. Most of the fish have been averaging around 100 lbs. or better so you better get ready to play some major tug-o-war. Live bait, dead bait and artificial are all producing fish. If you are interested in a Boca Grande tarpon fishing charter consider fishing from now until mid October. The tarpon fishing will remain consistent until the water temperatures drop following our first few major cold fronts.
Each year around the end of August the redfish begin to school up for their annual spawn. This August was no different and the redfish fishing has been awesome! I have had multiple 50 plus fish days the past few weeks with most of the fish averaging 25"-28" and 5-9 lbs. They are readily hitting artificial and fly as well as live bait. These large schools will continue to prowl Charlotte Harbor until the end of October. If you love to catch redfish, September and October are hands down my favorite months!
Snook fishing was fantastic this August and September should be just as good. Snook are still piled in and around the many passes around Southwest Florida and they seem to be eating everything that passes by. On Boca Grande fishing charters 20-50 fish days have been the norm with most of the fish averaging 22"-24". Even though the average fish is around 4-5 pounds many trips are producing fish well over the 15lb.mark. I can't guarantee a giant Snook but the chances are still pretty high!
Normally I wouldn't be talking about big trout in September but this year has been producing some really outstanding fish. While trout fishing you can also expect to catch Reds, Snook, Mackerel, Snapper, Jacks and Ladyfish. It's been amazing the kind of action I have had while getting as limit of trout.
Whether you want to catch the fish of a lifetime or just relax with friends, you can count on Reelfishing charters to put together the ultimate Southwest Florida experience! Capt. Danny is the guide that will bring everything together for a fun, exciting fishing charter that you'll remember.
Reelfishing is a Boca grande fishing charters as well as a Boca Grande fishing guide service. We pick up at several locations around Southwest Florida including Burnt Store Marina, Pineland Marina, Placida and the Boca Grande guide docks. Other arrangements can be made if necessary. We try to make fishing with Reelfishing charters as easy as possible.
Catch Fish, No Excuses!

Target Species:

tarpon, snook ,redfish, trout
More Fishing Reports: