Boca Grande, Fl 19 Sept.
Capt. Pete Greenan
September 19, 2009
Boca Grande - Saltwater Fishing Report

Boca Grande, Fl.
19 Sept. 2009

Anglers fishing with me this week enjoyed outstanding fishing for seatrout, snook and redfish. The most exciting fish were snook on top water poppers.
Our biggest was 29 inches taken by Dusty Sprague of North Port, Florida on a modified Gartside Gurgler. Other great catches included Dennis Kowal's
first redfish on a fly (see pix), Al White's redfish and Ron Whiteley's 22 inch seatrout. Dennis used a shrimp imitation copied from a Tim Borski design.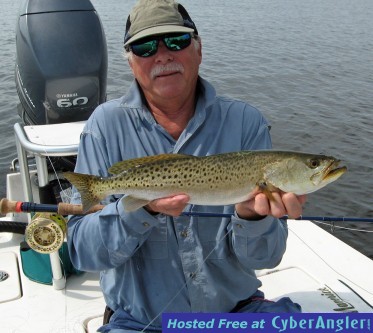 Al, a fishing guide friend, used a custom designed Puglisi to take a nice red on a tough day.

Early this week we enjoyed morning overcast skies and strong tides. All of which made for great fishing. On these days we caught fish everywhere we
went. Dusty Sprague caught seven snook on top water on one day. By the weekend, the weather turned bright adn warm under high pressure. The
fishing was very slow until the top of the tide around 12:00 noon. Even then it was not as good as the early week days.


This demonstrates how we are at the mercy of the weather. Cold fronts, clear blue skies and strong winds always make fishing tough. So... it is the luck
of the draw when fishing. Picking the best days means being diligent about the forecast and taking advantage of the best conditions at a moments notice.
It is a comfort to know that any day on the water in Boca Grande can produce good catches. You just have to be patient and fish hard.

The fishing forecast is excellent for snook, seatrout and redfish. The coming week should prove excellent early and late in the day. The abundance of bait
suggest the use of white, white/olive and white/green imitations. Any cloudy day will produce good fish on top water. Otherwise, use a sinking pinfish or
shrimp pattern.

Fish Hard,
Capt. Pete Greenan
www.floridaflyfishing.com
Boca Grande Fishing Forecast:

Good - seatrout snook and redfish early and late. top water on cloudy days
Target Species:

snook
More Fishing Reports: