Boca Grande, Fl. 28 Sept
Capt. Pete Greenan
September 28, 2009
Boca Grande - Saltwater Fishing Report

Boca Grande, Fl
28 Sept 09
Outstanding fishing this week in Boca Grande was highlighted by large snook, baby tarpon and an abundance of seatrout. There is no better time of the year than the fall on Florida's west coast. Unusually high tides in the morning produced strong water movement as the days went on. Baitfish shoals grew larger and the fish fed aggressively.
Dusty Sprague and I were able to jump four little tarpon in the deep backcountry on Thursday and then managed several snook along the mangroves. All were taken on a modified Gartside Gurgler pattern. Switching to a submerged fly because of the bright sun, we caught several seatrout in just a few minutes to finish up a fun and exciting day.
Dennis Kowal, a famous artist from Sarasota, caught false albacore and Spanish mackerel about two miles off Gasparilla Pass on Friday. Huge shoals of anchovies were attacked by these marauders. Follwed by Capt. Al White, we moved to the backcountry to catch more of the seatrout we found the day before. We all joioned up with Ron Whiteley and Dusty Sprague for a splash in the pool and a cold libation at Ron's house. Another damn fine day.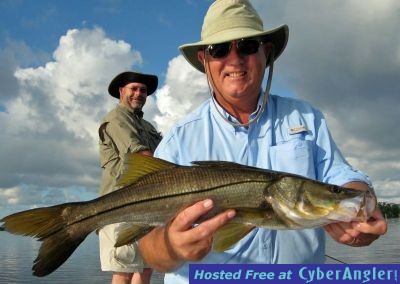 Harry Davis and his fishing buddy Ron, from Dalton, Ga. fished fly and top water plugs on Sunday morning with great success, except for the tarpon. Ron caught a giant redfish, several seatrout and a half dozen snook to 32 inches. Harry, the best plug fisherman I've ever had on board, just hammered the snook with a Zara Spook, his favorite plug. Harry also took a large jack crevalle and hooked a 5 or 6 foot shark that slammed the Spook. Ron continued his success by hooking and jumping a four foot tarpon in the backcountry. This fish was in a location that I have never seen tarpon before.
All this indicates a very good season. If you can get out on the water, now is the time. The new moon in October is near the middle of the month. Take advantage of it if you can.
Fish Hard,
Capt. Pete
www.floridaflyfishing.com
Boca Grande Fishing Forecast:

very good to excellent
Target Species:

Snook
More Fishing Reports: