Boca Grande flats fishing buffet of trout, snook and mackerel
Capt. Darel Carter
August 6, 2016
Boca Grande - Saltwater Fishing Report

7-25-16
Today's trip was with repeat customers from Tennessee. This year they had seven people that were going to fish. My partner Capt. Scott Fisher would take out four and make it a split charter. Scott filled his live well at Gasparilla pass area and I at Devil Fish key area.

With the live well full of greenies, I had time to catch six trout and get cutoff by a large Spanish mackerel before pick up time. I also had large Tarpon rolling next to the boat in six feet of water.
We started by fishing a grass flat that dropped down into a channel with great success. It was trout after trout and was cut off by many Spanish mackerel. Of course, a small shark was also involved. Robbie hooked a giant stingray that had to be run down with the boat. It was about 50lbs or so. The morning was filled by non-stop action. We would put baits on the bottom, under a cork or free lined.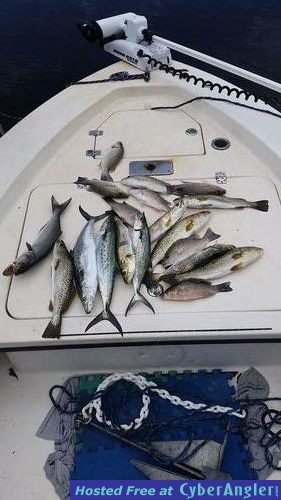 We moved to a large grass flat and fished for trout, sharks and Spanish mackerel. Our only shark was a line-ripping run that ended in a jump, spin and the hook came out. Junior (13yr old) was the only one that could put a mackerel in the boat.
They wanted some fish to eat so it was snapper time. I moved to the pass and junior put several snapper in the boat. Our last stop was a Snook spot. I tossed some greenies out that were met with many blow-ups. These Snook were very line shy. I had a trick for that; I hooked Junior up with a sinker to keep the bait down on the bottom. Mt theory on this is the line is not above the Snook and harder to see. Try it. He hooked up and the Snook run and jumped up under the bushes. Junior look under and back about eight feet was his Snook. He pulled, and I pulled to try to dislodge the fish-not happening. I moved the boat and we got it out for a photo. Junior was on fire all day long.

Boca Grande Fishing Forecast:

flats fishing with hookedoncharters.com is on fire.
Target Species:

Snook, trout and mackerel.
More Fishing Reports: