Boca Grande 15 Redfish and 6 Snook
Capt. Darel Carter
November 9, 2015
Boca Grande - Saltwater Fishing Report

10-22-15
Joe and I had planned to flats fish today for redfish, Snook, Trout and snapper. The day started out with finishing the install of my new GPS trolling motor at 6am. The only thing needed was to attach the prop. I put the prop on and hand turned the prop, not good. I heard grinding. To late now, off to the boat ramp. First order was catching bait. I checked the flats close to the ramp and found bait moving on top. At anchor, I noticed the water was just barely moving. Several throws (at least 10) with the 8-foot net and we were good with greenies and pinfish.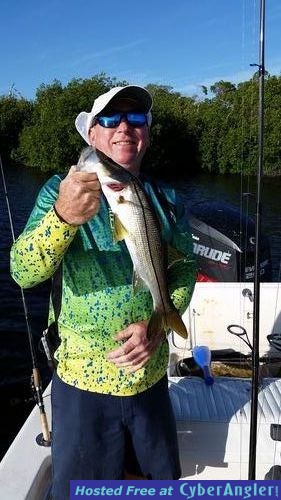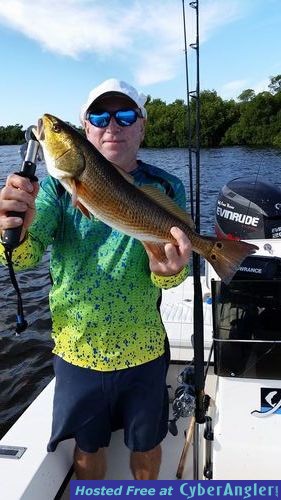 The tide was high and the potholes were hard to find. We fished three potholes that produced one catfish.
Its was time to change the strike zones by moving to fish the bushes. With the water so high, it spread out the fish and they moved out of the holes. Our first move was 50 yards away and next to the mangroves-fish on. Three Snook and a couple of keeper size Redfish. Our next move was about 10 yards – one Redfish and two Snook. Ten more yards put one more Redfish in the boat. The next island over produced Redfish after Redfish while anchored in one spot. We boated a total of 15 Redfish and 6 Snook. All of the Snook were undersize and one Redfish was under or at 18 inches.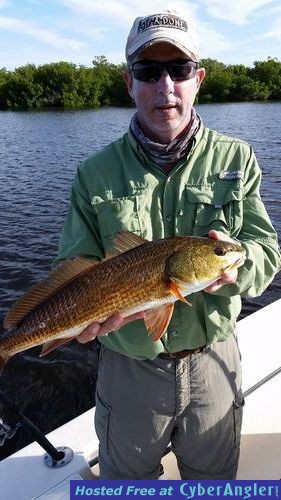 O' by the way the new trolling motor did not work. It was boxed up and in the car that night.
The next target was the mullet school that was about 30 yards away. I attached a rather large treble hook to 50lb mono and then to my 65lb power pro. Joe said theirs one swimming by. I cast over it and snagged it. That was the biggest mullet that I have ever snagged at over 4lb and 21 ½" long. I snagged 5 to eat and stopped at that.

We moved off shore to troll for grouper. No luck at that.
We moved back inshore to target Mangrove Snapper. This spot was on fire with instant hook ups. We stopped at our 10 keepers and stopped for the day.
Boca Grande Fishing Forecast:

More Redfish Snook and Macks w/ hookedoncharters.com in Charlotte county Florida.
Target Species:

Redfish Snook Trout Macherel
More Fishing Reports: