Epic fish on a stormy day.
Capt. Darel Carter
August 24, 2017
Boca Grande - Saltwater Fishing Report

I had planned a Permit trip with some friends. We were to meet at the boat ramp at 5am to catch pass crab (calico crab) under the bridge before our trip. While traveling to the boat ramp I notice lightning off shore, so I checked the weather. There was a 15-mile-long storm moving inshore which changed my mind about going off shore. We waited about 30 minutes to let it pass and headed out to the bridge. I noticed some big fish blowing up on bait. I made one cast with a DOA shrimp and handed the rod to Jeff and told him to reel slow. Instant hook up. It was a small Tarpon of about 36" long.
We could not get any other takers. We move out after the sun came up and caught bait.
Our next stop was a long grass flat that butted up to a mangrove island. We caught some nice keeper sized trout, big mangrove snapper, ladyfish and Spanish mackerels.
On the next stop, I advised Theresa that this spot produces some big Snook. The bait wasn't out for about two minutes and she hooked up to a 34" Snook. Not bad for her first fishing trip and first Snook.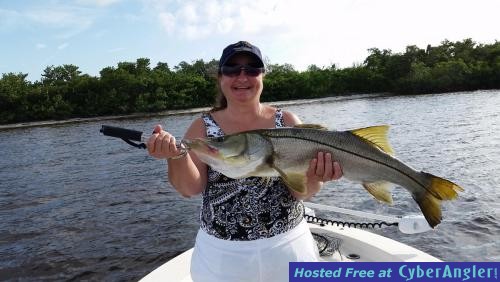 Four minutes later, my wife hooked up to a 41" 21-pound Snook. Her biggest Snook and what an epic fight it was.
I captured both fish on my Gopro. You can see the VIDEO on my YOUTUBE channel at "darel c". That was the end of that Snook spot. We moved to a shallow grass flat that was full of bait. It was also full of Trout, Spanish mackerel and Lady fish. That did not last long because we got ran back to the boat ramp by a very large storm. The day ended at about 10 am. What a storm and what a disappointment.

Boca Grande Fishing Forecast:

When you can dodge the storms you can catch big fish with me. Capt. Carter at www.mytarpon.com
Target Species:

Tarpon, snook, redfish, trout, snapper,cobia and shark
More Fishing Reports: