Little girl can fish for snook, trout and flounder
Capt. Darel Carter
March 28, 2017
Boca Grande - Saltwater Fishing Report

Took my 6yr old grand daughter out flats fishing on 3-25-17. This was the second trip with her. I'm getting her ready for the CCA Star tournement that starts in May.

The day started out by catching plenty of 4" thread-fins for bait. They came easy with 3 cast of my 8' cast net. Lilly caught a 21" Snook on the first cast in a deep channel. The tide was incoming and bringing in weeds with it. Only one fish was caught. The weeds kept covering up the bait.
We moved from spot to spot and Lilly caught two keeper flounder under a cork. On our last spot we covered a large flat. It was a grass flat sloping down to deeper water.Lilly caught two trout. One was over 20" long.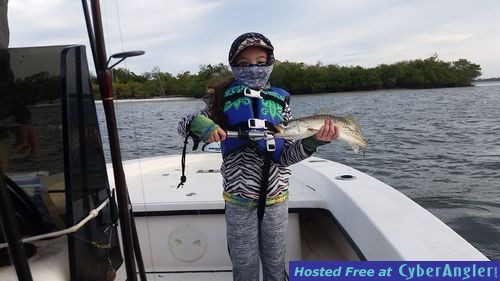 Go to You tube to see the video. Look at (darel c) or " little girl catches snook, trout & flounder."
If you want a flats fishing charter with Capt. Carter and hookedoncharters.com. Or call 941-456-0415.
Boca Grande Fishing Forecast:

The spring transition is here and the snook, trout, snapper,cobia, redfish and tarpon are coming.Book your charter with Capt, Cater and hookedoncharters.com.
" I never give up".
Target Species:

Tarpon, snook, redfish, snapper, trout, and shark.
More Fishing Reports: