Sight Fishing For Snook and Redfish
Capt. Austin Lowder
December 3, 2009
Boca Grande - Saltwater Fishing Report

Boca Grande Fly Fishing Report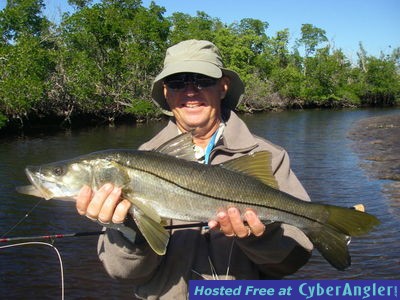 Sight fishing has been awesome lately. Changing weather conditions and cold fronts have been making the fish very predictable. Snook are staging up in their winter lies and the redfish have been tailing aggressively. December brings some of the lowest tides of the year and the redfish are tailing most every day on the right grass flats. We have also been sight fishing them on the sand and catching them very consistently. We have had very little boat traffic and the fish seem to be very happy swimming in super shallow water and striking flies aggressively. I fished two days with a gentleman and the first day it was slick calm, overcast and hotter than blazes. The tides were great and we cast at fish in a muddy bottom creek and every redfish we threw the fly in front of smashed it. We lost what little light we had so I took him to find the tailing fish. After casting to 30 tailing redfish with a variety of crab, shrimp and baitfish patterns we could not get them to bite anything. The next day we went out after a nice cold front came through and the water temperatures dropped ten degrees and all the tailers we through at ate the fly or chased it. We boated a 33 inch redfish and two 28 inch redfish and missed and lost several others. I feel like when the water temp drops the food availability to fish diminishes making them much more susceptible to fly presentations. In other words cold fronts are good for fishing and it is nothing but a myth that fish don't bite when it is cold.
I fished with another gentleman on a half day right after a cold front and we caught 25 snook, a Small 8lb Tarpon and and an 8lb redfish yielding him a grand slam in just a morning half day. My afternoon clients managed to nail 2 big tailing redfish in the after noon making that day a great fishing day.
Yesterday, I fished with Sam who loves to catch big Snook. We went out and the conditions were mint. Calm winds and glarey skies made visibility tough but the fish were ther in big numbers and we cast to two snook gliding down the shorelines in a foot of water. We cast to the lead fish, a 35-40 inch snook and he refused the fly and the two fish swam into a shady corner. We waited for them to come out of the shade and when they did they swam around a log and Sam fired a fly right past the first on and left it for the second snook, he stripped and the fish automatically popped the fly right on the surface and the battle commenced. We landed this 30 inch Snook and proceeded to catch another 27 incher and then we landed a 37 inch Snook all within the hour. We managed to catch 3 redfish and lose 3 more nice snook that day. I have posted the video of our adventure youtube entitled Boca Grande Chronicles "Sight fishing for Snook and Redfish Part 1 and 2" and Boca Grande Chronicles "Tailing Bonanza Part1,2,3, and Winter Grand Slam." Find my channels by searching these titles. My Channel is called flyfishing with Austin Lowder. Check out my website at www.seaandstreamflyfishing.com or call me for more information at 941-815-0254.
Overall, I think Boca Grande fly fishing is as good as it gets right now and should continue to stay good through the month. The tides are low and there are lots of fish to cast at. You just have to feed them.
Boca Grande Fishing Forecast:

This month the fishing will be great. Low boat traffic, great low tides and lots of fish. Come down now and sight fish these awesome fish.
More Fishing Reports: