Tripletail fishing Boca Grande
Capt. Darel Carter
June 1, 2015
Boca Grande - Saltwater Fishing Report

Friday 5/29/15
Today's target would be tripletail. It started out with trailer light problems. Turns out that the trailer light was not waterproof, nor water resistance at all. The bulb was so rusted it could not be removed from the housing. This housing was replaced less then one month ago.
The next problem was getting gas at the pump without any plastic. Had to go back home (only a mile) to get my debit card and drivers license and start all over. That is the first time that happened. I told my client that when your day starts out like this you just want to go back home and stay there. I also told him that it usually means your going to have a great day of fishing. I called that one right. What a day we had.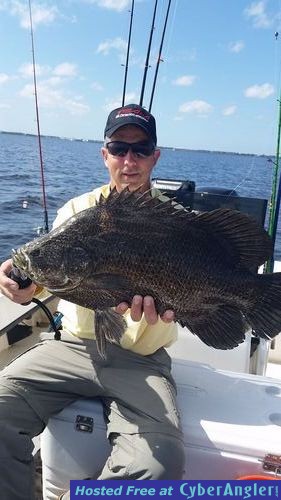 I decided to stop in at Fish n Franks and get some back up bait (shrimp) for the tripletail trip. At least that worked out for me.

The first tripletail was in the boat at 0730 hours. We blind cast live shrimp on a 5/0 hook and 40lb leader. We used up the shrimp in no time to catch four tripletail. These fish were between 13" and 18" long. I immediately caught threadfins and greenbacks for the next presentation. The live bait worked just as good as the live shrimp. We ended at about 1030 hours with eleven tripletail and several Spanish mackerel. The largest tripletail was 20" long.

Check out hookedoncharters.com for a flats fishing trip or I can build you a custom fishing rod. Capt. Darel Carter 941-456-0415
Boca Grande Fishing Forecast:

Forecast is good when you fish with Capt. Darel Carter at Hookedoncharters.com... Tarpon,Snook,Redfish,Trout.
Target Species:

Tripletail,Snook,Tarpon, Redfish, Trout, Snapper,Mackerel
More Fishing Reports: