Wade fishing Charlotte County,Placida
Capt. Darel Carter
April 15, 2017
Boca Grande - Saltwater Fishing Report

4/13/17
Today I planed to take a friend out wade fishing the flats. This is a very productive way to fish this area. Our gear included wading boots and a "donut" AKA floating live well bait basket. I was using a custom made basket that I made to fish tournaments, that would hold a keeper Snook.

Bait was caught in a different way today. The bait was on the beach and would not come to the chum. We had to walk up on it and throw. We caught cigar minnows and big greenies.

The tide was not moving at our first stop and did not produce any hits at all. Our next move was a spot that was a very large pothole. We fished the edge and caught some very nice keeper trout using the live bait on the bottom.

After this pattern slowed, we move to an area to wade fish. It had a hard sandy bottom that dropped down to grass. I hooked the bait in the back and Aaron hooked his bait in the mouth. We caught some more nice keeper trout and nine Snook. Most of the Snook we could see, as they kept moving around in the area.
We moved into the bushes to hunt for redfish with no luck. We saw many more Snook in the pot holes but no redfish. YOU TUBE VIDEO OF THIS TRIP WILL BE ON LINE. Search (darel c)on you tube.
If you want to plan a fishing trip with me contact me at Capt. Darel Carter 941-456-0415.
Just finished a rod i tricked out. I do rod repair and custom rods also.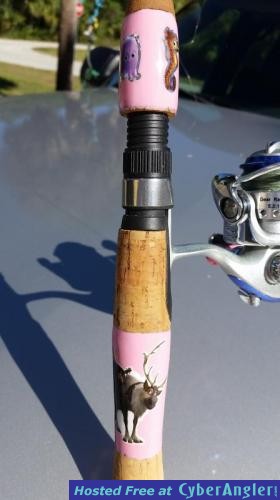 Boca Grande Fishing Forecast:

Flats fishing was Capt. Darel Carter for redfish, snook,trout in Placida, Boca Grande, Charlotte County will improve with better weather.
Target Species:

Tarpon, snook, redfish, snapper, trout, and shark.
More Fishing Reports: