Great summertime fishing so far around Anna Maria Island
Capt. Taylor Cowieson
May 20, 2022
Bradenton - Saltwater Fishing Report

The summer heat is starting to show itself around Anna Maria Island and Bradenton making the fishing GREAT! On our inshore fishing charters we are encountering most of the desirable fish such as snook, redfish, seatrout, mangrove snapper, Spanish mackerel, and gag grouper. Grouper season opens up on June 1 so don't miss out on your chance at a great fighting and great eating fish. The mangrove snapper bite has been getting better and better as the water warms. The more we get into summer the better the mangrove snapper fishing gets. These are one of the tastiest fish that Tampa Bay has to offer and are great sport on light tackle. The Spanish mackerel have been around most of the spring, it just has not been a consistent bite for them yet. One day we catch them, the next they have moved on. The mackerel fishing should steady out as we get into the warmer months as well. The snook bite remains great with lots of larger slot sized and over slot sized fish around. As far as action goes the snook fishing can be very fun for kids as well as once we locate a large pod of them the smaller male fish are very aggressive and easy to fool with a live pilchard. On some of our inshore fishing charters lately we have been able to land upwards of 30 snook (catch and release), and still have time to catch a couple mangrove snapper or Spanish mackerel to put in the cooler for dinner later. We had a great spring of seatrout fishing with lots of larger fish around. The seatrout are going to be in the deeper grass areas mixed with ladyfish, mackerel, bluefish, and jack crevelle. Fishing in the deep grass areas also have a chance of hooking into a surprise tarpon this time of year.
One of the best parts about the late spring/early summer around Anna Maria Island is the tarpon migration. These fish are one of the greatest sport fish that Florida has to offer. There is no food value to tarpon but they are the ultimate sport fish. Tarpon will test any angler's abilities as they are large (upwards of 100+ pounds), strong, and smart. In order to successfully land one the angler must bring their A game and remember to "bow to the king!" we offer 6 and 8 hour tarpon fishing charters throughout the summer. We primarily use live baits and large spinning rods to fish for these giants. This is a chance at landing a true fish of a lifetime. Tarpon fishing does not usually provide anglers with as much action as our inshore fishing charters; it is more of a hunt, but well worth the work.
If you are looking to get out on the water and enjoy a day of making memories, give me a call/text 813-220-8725 to inquire about booking a fishing charter. You can also reach me through email: [email protected] or book directly on my website: https://www.onamissionfishing.com/.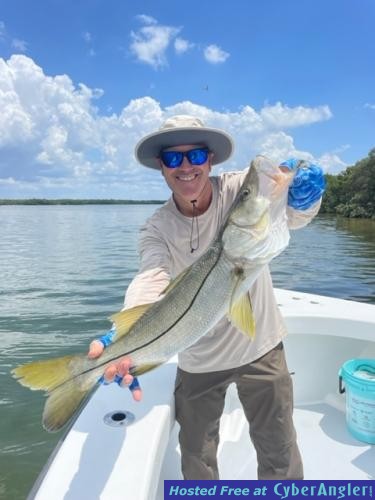 More Fishing Reports: