Peacock Bass A Plenty
Capt. Russ Walker
December 3, 2020
Cape Coral - Saltwater Fishing Report

While the usual offshore may lay goes on offshore this time of year, we chose to take this time to cancel an entry on the Ole Bucket List.
Peacock Bass is the species that I'm talking about and they are fierce fierce fighters. Nearby canals east are absolutely full of them. Immature Tarpon too in the 10 to 15 pound range.
Near the bridges and park docks, freelined silver, freshwater shiners are the ticket. Those big Peacock Bass can't resist a flailing Shiner. We caught at least 20 yesterday, all catch and release. One three pounder, one Five.
If you are in the Peacock Bass Mode. We can help. Transportation, Tackle and bait are provided. A Florida freshwater license is required though.
I Don't really feel like fishing today...said No Fisherman Ever!
www.tidewalkercharters.com
Captain Russ Walker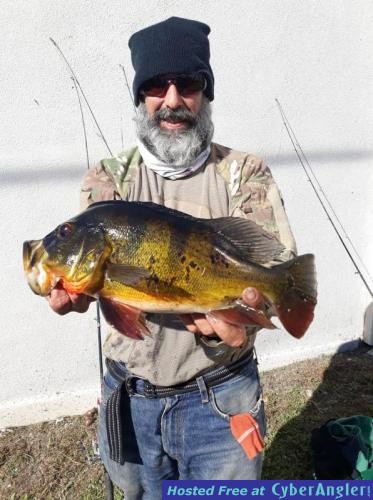 Target Species:

Peacock Bass
More Fishing Reports: