Got to Get Out and Get em When the Gettens Good
Capt. Bert Barkus
February 25, 2010
Chokoloskee - Saltwater Fishing Report

Got to Get out and Get em When the Gettens Good
Capt. Bert Barkus
February 25, 2010
Chokoloskee - Saltwater Fishing Report
Meaning the trout fishing.
This year has been excellent when it comes to Trout fishing.It's no problem to get your limit in just a few minutes.Almost all the fish are with in the slot with many in the 20"plus size.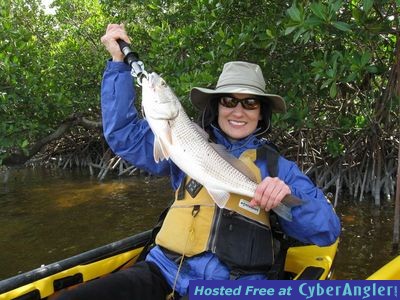 Wendy with her first Redfish.
Their excellent eating with a Butter,Cream,Caper sauce, deep fried,ON the Grill,or any way you want.
The red fishing is still on, but this wind and cold just doesn't want to stop.
As I sit here @ 5:30 I can hear it blowing hard, and the wind chimes are singing,which my nighbors hate,Too Bad.
Yesterday,we lost count on the trout,saw a few tarpon roll,and still couldn't get a snook strike.It was overcast in the morning with slight rain, so site fishing was out of the question,so we hammered the trout in 4 different locations.
Buy the time the sun was shining,and the water slicked off it was a 3.6 tide.not good for gulf side site fishing.But after an hour or so into that is when every now and then a Tarpon would roll.
Their was no need to try to fish them when only 1 here and their would roll,we tried doa sinkers anyway with no success.
I've had some pretty brave soles this past week considering the weather.
Chokoloskee Fishing Forecast:
Waiting for Weather stability for Laid up Tarpon
Target Species:
Snook,Tarpon,Reds,& Trout
Chokoloskee Fishing Forecast:

Waiting for laid up Tarpon
Target Species:

Snook ,Tarpon,Reds,Trout
More Fishing Reports: