December was a Tough Month
Capt. Bouncer Smith
January 30, 2022
Crystal River - Saltwater Fishing Report

Chris Conklin and David put together an exciting trip for all of us in December. They had Capt Randall move his big boat up to Morehead City North Carolina. They rented a nice house on the water and started inviting guest to target giant bluefin tuna.
I got on the list for five days. Capt Randall did a great job having us in the right areas, as we saw several fish hooked up around us. Capt Ron Cook handled cockpit duties, keeping fresh live baits deployed and the decks shipshape.
Over those five days we caught a thresher shark and several sandbar sharks. We had two bluefin tuna within 20 feet of the boat when the leader failed on both fish. Better luck next time.
My next excursion was to drive to Crystal River Florida with Ron Cook. There we met up with Captains Matt and Tyler Tambor, a great father and son team.
We fished with Kyle Messier targeting gag grouper on fly tackle. Matt scored big! He caught a 15 pound grouper fly casting. Tyler caught a 25 pound black drum on light spinning tackle. Ron caught a Spanish mackerel and a nice snook on fly. Me, I caught two baby grouper on heavy spin tackle and a couple nice trout on plug tackle.
Just remember. A bad day fishing beats any other day, especially when you add great people.
Capt. Bouncer Smith
305-439-2475
http://www.captbouncer.com
http://www.bouncersmithchronicles.com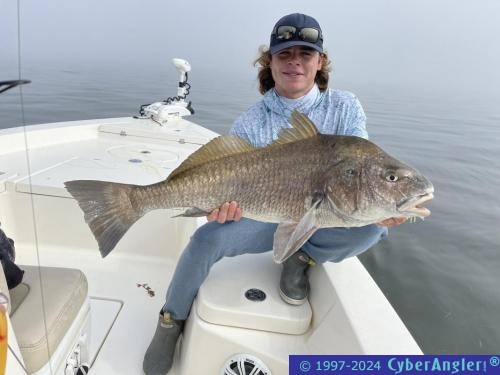 More Fishing Reports: