Daytona New Smyrna Beach Mosquito Lagoon Backcountry
Capt. Michael Savedow
October 5, 2019
Daytona Beach - Saltwater Fishing Report

Autumn 2019 has arrived, we've had plenty of east winds off the ocean, cooling us down just a little bit , as early fall is still fairly warm here in East Central Florida, the east winds raise water levels in the Intracoastal Waterway and saltwater Mosquito Lagoon by pushing more ocean water inside the near by Ponce De Leon Inlet and filling the estuary with clean seawater, also beginning the process of clearing the water clarity after the usual cloudy water of summer. Schooling inshore game fish as coming through the region as well as the fall migration of baitfish, surface striking Jack Crevalle, Bluefish and Ladyfish are great fun for sight fishing, casting bait or lures right into the white water surface action can bring instant hook ups and great rod bending with drag pulling. Also the usual Seatrout, Mangrove Snapper, Whiting, and others are abundant here in the backwaters, Snook, Black Drum and Redfish and others are also always a possibility. Family friendly trips with children are one of my regular types of charters, is great fun putting everyone on catching fish, but kids catching a good one is always a treat. Young Frankie from Orlando had a great battle catching a nice Black Drum on a back water creek…………….
One of the very favorite catches for novice fishers on a back country charter is a Shark, young Sadie from Tennessee out with her family on a recent trip with me got a fun little Shovelnose Shark that came aboard for a quick picture before release………………
First cast of the trip for little Presley from New Jersey had her pulling on a fun Jack Crevalle setting a great tone for the morning charter ……………..
Florida Pompano have been a regular catch in the backwaters here in my area the last few years, they are great fighters being a member of the Jack family, John from Ohio out with a group of very long time regular clients with a nice one …………….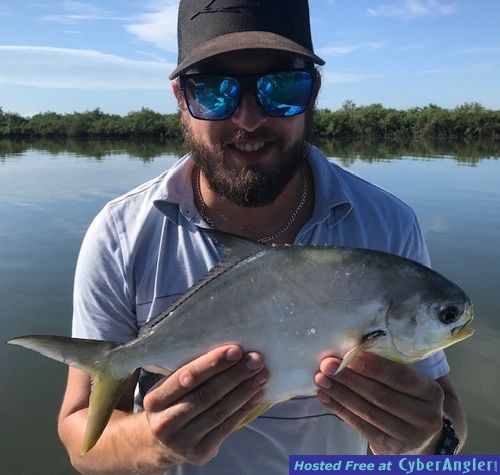 I had a fun time out on a scouting trip with my friend casting artificial soft plastic lures on the edge of the intracoastal channel first thing in the morning, my first strike was a pretty nice Snook for a good photo and release ………………..
A few minutes later my lure got bit again by a nice Spotted Seatrout which also got his photo taken before I set him free……………….
You never know when a surprise fish will come to the boat with my usual mixed bag variety back waters fishing style, this one a little Bonefish caught by Joe from Louisiana……………...
Fun Friendly Light Tackle Fishing Adventures
Closest Saltwater Fishing to Orlando at New Smyrna Beach
Calm Water Indian River Backcountry
CHILDREN ALWAYS WELCOME – FAIR PRICES
CALL OR TEXT ME ANYTIME 386-689-3781
https://EdgewaterRiverGuide.com/orlando-fishing-guide
Capt. Michael Savedow
Edgewater River Guide, Inc. Since 2003
386-689-3781
https://EdgewaterRiverGuide.com/orlando-fishing-guide
More Fishing Reports: