NewSmyrnaBch MosquitoLagoon Redfish Flats
Capt. Michael Savedow
December 16, 2013
Daytona Beach - Saltwater Fishing Report

Getting ready for Christmas and the New Year of 2014 but still fishing as I do all year long. The anticipation of all the different seasons of the year along with the fishing patterns which change with the calendar here in the Mosquito lagoon area make New Years my favorite holiday. As winter arrives the cold water pattern begins, highlighted with schooling Redfish here on the flats and Seatrout schools on the drop offs, a bonus can be the large "gator" Trout which love to be in the shallowest water they can find on the flats this time of year. Sight fishing the schooling Reds in crystal clear water is a winter treat, words can't describe getting to see schools of 50 to 500 fish swimming as a group in front of you, in low light conditions watching for the tell tale wakes of the school pushing in 1 or 2 feet of water, then as the sun gets higher the chance to seeing the fish moving along the bottom. Our late fall pattern has been a fun one also with several good charter trips the last couple weeks. Andy from Wisconsin brought friend Leslie and son Spencer with me on a recent morning charter catching 11 Redfish, Spencer caught and released the largest, a cool 9 spot "over the slot" 27.5" Red.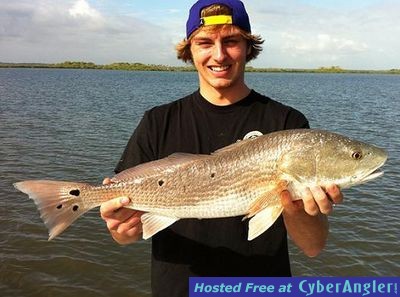 Leslie had quite the trill catching her first ever Reds on our trip.
My Edgewater Indian River mixed bag trips are always fun easy fishing with usually big numbers of fish, winter catches being Seatrout, Redfish, Sheepshead, Bluefish, Black Drum, and more, on most trips we catch 10 or more species making for part of the fun not knowing what fish will come up next from the channels of the backcountry. On a recent mixed trip regular client Ty from Atlanta brought his 2 sons along, Nick hooked up at our first spot with this 29.5" Red on a light tackle "trout" rod making for an epic battle with the 10 plus pound fish, making him all smiles for his photo before release of the "over the slot" Red. The trio went on to catch 65 other fish during the morning, school trout, small reds, blues, and a great pompano for dinner.
Ty also did a solo flats Redfish trip after the boys had to get back to Georgia, catching 4 Reds including this 24"er caught right at sunrise on Mosquito Lagoon.
85 year old Bill and son in law Ed braved a windy day on the flats, we were rewarded with 5 Redfish, we helped Bill battle his 27.5" spot around the boat a couple times for the photo and release, another "over the slot" fishy.
Steven did a recent solo flats trip catching 3 Reds up to 25" and 4 Trout up to 25" as seen in his pics below.
On one of the windiest days I have been out in quite a while Kevin from Savannah GA just had to try it as was his only day here. Tough catching in 30 knot winds, hiding behind some islands we caught a jumbo 26" Seatrout.
MY BOAT COMFORTABLY ACCOMMODATES 1 TO 4 ANGLERS
Located close to DAYTONA BEACH, NEW SMYRNA BEACH, ORLANDO, KISSIMMEE, DISNEY WORLD, SPACE COAST, COCOA BEACH, EAST CENTRAL FLORIDA. Saltwater Inshore Backcountry Fishing Charters. Feel free to contact me at any time with questions you may have about my fishing charters. Mosquito Lagoon Fishing Guide. Flats Sight Fishing, Inland Fishing, also Eco-Tours, Sightseeing, Bird Watching, Photography Trips. Saltwater Fly Fishing Trips by request.
CALM WATER INSHORE SALTWATER FISHING – NO SEA SICKNESS
CALL ME ANYTIME AT 386-689-3781
CHILDREN ALWAYS WELCOME – FAIR PRICES
Capt. Michael Savedow
Edgewater River Guide, Inc.
386-689-3781
email> EdgewaterRiverGuide@cfl.rr.com
Website> http://EdgewaterRiverGuide.com

More Fishing Reports: