Summer time fishing is arriving on Mosquito Lagoon Florida
Capt. Michael Savedow
May 2, 2012
Daytona Beach - Saltwater Fishing Report

May 2012 brings the beginning of summer fishing patterns to Mosquito Lagoon Florida. I had a great April with loads of fun charter trips, many Redfish were caught sight fishing on the grass flats, some great Seatrout also as these are the main 2 target species here on the Lagoon. With low water levels during this our dry season, much of my flats fishing has focused on the edges where the flats drop off to deeper water, Mullet bait schools along with the game fish stay near these edges where the flats are very shallow during low water periods. Some of the Reds we caught sight casting were tailing, which can be the most exciting behavior you can see while flats fishing. We sneak the boat up on these fish which are rooting in the grass for food, if the angler on the bow makes an accurate cast right into the fish's zone, the fight is on. Here is a photo of Jeremy with the over slot Redfish he caught and released with me a couple mornings ago which was tailing as beautiful as you could want. Also more pictures of April clients catches of Redfish, Seatrout, and more.

As spring transitions into summer, the calm morning weather patterns become more prevalent making for many fun flats fishing trips to come throughout the summer months here on Mosquito Lagoon. We will be prowling the flats hunting Redfish and fishing deeper drop offs and holes for Seatrout. Flats fishing is a more challenging type of fishing, good for experienced anglers as well as all fishermen and fisherwomen wanting to experience this great fun type of shallow water fishing.

Summer is also a great time for my Edgewater Backcountry mixed bag fishing trips on a little deeper channels and drop offs. On most every trip we catch Seatrout, Jack Crevalle, and Ladyfish in this fun easy type of fishing. On most trips we catch a few other species also which can include Flounder, Black Drum, Whiting, Redfish, Mangrove Snapper, or Sheepshead, to name a few, with about 10 species of saltwater fish caught on most trips, perfect for family trips and fishermen looking for a sure thing fishing trip with bigger quantities of fun fish caught. This is light spinning tackle fishing with live shrimp baits. Young Austin here from Australia with his dad released this great 33 spot Redfish back into the water in the backcountry while on one of my mixed fishing trips.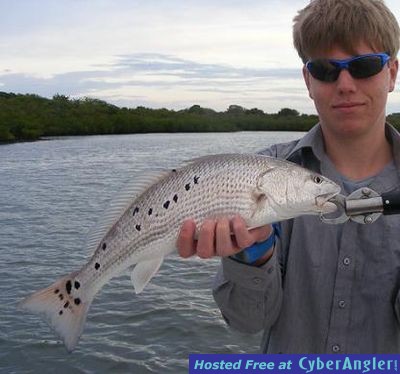 CALM WATER INSHORE SALTWATER FISHING – NO SEA SICKNESS

As we are out catching fun saltwater fish and enjoying the great outdoors here on beautiful Mosquito Lagoon we will be seeing lots of wildlife up close and personal near the boat with Dolphins and many different bird species on every trip. On many trips we see Manatees which have come back with a great population rise thanks to boaters awareness to be careful of these impresive slow moving marine mammals.

MY BOAT COMFORTABLY ACCOMMODATES 1 TO 4 ANGLERS
Located close to DAYTONA BEACH, NEW SMYRNA BEACH, ORLANDO, KISSIMMEE, DISNEY WORLD, COCOA BEACH, EAST CENTRAL FLORIDA. Saltwater Inshore Fishing. Feel free to contact me at any time with questions you may have about my fishing charters. Mosquito Lagoon Fishing Guide. Flats Sight Fishing, Also Eco-Tours, Sightseeing, Bird Watching, Photography Trips.

CALL ME ANYTIME AT 386-689-3781
CHILDREN ALWAYS WELCOME – FAIR PRICES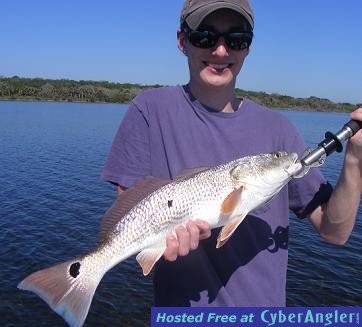 Capt. Michael Savedow
Edgewater River Guide, Inc.
386-689-3781
email> EdgewaterRiverGuide@cfl.rr.com
Website> http://EdgewaterRiverGuide.com

More Fishing Reports: