Summer 2014 Redfish Seatrout Backcountry Flats
Capt. Michael Savedow
June 25, 2014
Daytona Beach - Saltwater Fishing Report

June 2014 fishing has been great here on Mosquito Lagoon and Indian River Florida, I have been super busy with many inshore saltwater charter trips the last several weeks, summer pattern Redfishing has been great on the grass flats of The Lagoon, huge schools of mullet baitfish through out the area are shadowed by the Reds and Seatrout, fish can be scattered in and around the shoals of foraging mullet on the shallow flats as well as the edges near drop offs. Early morning can be the best time for Reds before the heat of the day arrives although afternoons can also be good for Redfishing as they are quite tolerant of warmer water temperatures during summer. Charlie from Orlando brought his kids out for a morning flats trip with me catching 6 Redfish including 2 over the slot size at 28" and 27.5". Bethany caught the largest of the trip.
We also caught several good Trout , here is Charlie with his 26" Speck.
My Indian River mixed bag trips are fun easy fishing all year long and summer is no exception, catching between 10 and 15 different species most trips, and being visited by great wildlife viewing up close and personal while we are "catching", with Bottlenose Dolphins and Manatees seen on just about every trip out. Seatrout, Mangrove Snapper, Croakers, Jack Crevalle, Ladyfish, and always several more species caught, also on many mixed bag trips a Redfish or 2 is not unlikely such as this nice one Connie caught on one of my mixed trips here in Edgewater.
Repeat client Roger also from Orlando area brought a couple of his kids on another flats fishing trip last week catching 10 Redfish and 5 keeper size Trout. Josh had the big Red at 36" we sight fished during mid morning with good visibility from a school of about 20 big Reds cruising the flat, casting out in front of the school brought a hook up and singing drag with this big one on light tackle.
Roger thought he would have big fish of the day at our very first spot that morning with this 33.5" Redfish from the edge of a flat with a mullet school.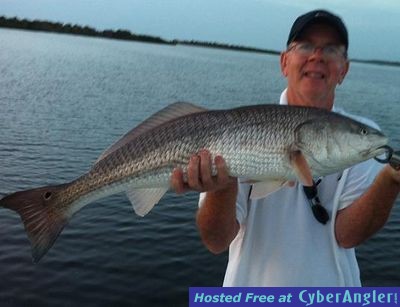 Longtime regular summer mixed bag clients, dad Stephen and sons Ben and Sam from Georgia, decided to try a Redfish trip this year and were not disappointed, catching 6 Spot tails up to 27", here is Ben with a good one.
Also regular clients from Orlando brothers Adam and Matt brought a friend and left dad home this time, caught 7 Reds up to 25" and also 15 school size Seatrout on soft plastic artificial lures over deeper grass flats. Adam shows off his largest of the morning.
First time clients Marshall and Athena from Virginia hoped to catch a Redfish on their first flats fishing trip, and we had a great time accomplishing the goal with 12 Reds including 3 over slot, plus a few bonus Seatrout. The husband and wife with a double hook up sight cast from a small school on a grass flat edge, a 32" and 28" pair, both safely released after our photo.
Marshall had already got his goal early in trip with this 29" Red caught off a sand bar point slough.
MY BOAT COMFORTABLY ACCOMMODATES 1 TO 4 ANGLERS
CALM WATER INSHORE SALTWATER FISHING – NO SEA SICKNESS
CHILDREN ALWAYS WELCOME – FAIR PRICES
Near Daytona Beach, New Smyrna, and Orlando, East Central Florida. Saltwater inshore backcountry charters, Mosquito Lagoon flats fishing, fly fishing trips by request.
Call or text me anytime at 386-689-3781
See my website http://EdgewaterRiverGuide.com
Capt. Michael Savedow
Edgewater River Guide, Inc. Since 2003
386-689-3781
email> EdgewaterRiverGuide@cfl.rr.com

More Fishing Reports: