Sight-fishing for snook in the surf
Steve Gibson
September 6, 2009
Englewood - Saltwater Fishing Report

Fishing slowed somewhat during the last week, but we still managed respectable snook catches along the beach.
Mostly fly fishing, we landed snook to 31 inches on assorted flies. The top producer, of course, was my D.T. Special (variation).
Tackle include 6- to 8-weight fly rods, floating or sinktip lines, 15-pound leaders with 20- to 25-pound fluorocarbon bite tippets.
Pilchards and glass minnows are packed along the shoreline. So flies should be tied to match the size of the bait.
In addition to snook, we've been getting jack crevalle, flounder, ladyfish, Spanish mackerel, redfish, mangrove snapper and small grouper. Sizeable flounder are moving into the surf in preparation their annual fall spawn.

Ed Hurst of Sarasota fished with me and landed a redfish. We also fared well on small snook to 24 inches.
Ken Taylor of North Port joined me for a beach outing and we landed three snook, a dozen jack crevalle, ladyfish, Spanish mackerel and flounder. Taylor used spinning tackle and got his fish on D.O.A. Shrimp and a Yo-Zuri 3D Fingerling.
Snook action should remain good through the end of the month. This is the ultimate sight-fishing experience, with fish to 35 inches and up definite possibilities.

Large redfish could make an appearance in the surf as they prepare to spawn.
Fishing around Sarasota Bay is producing spotted seatrout, ladyfish, jack crevalle, bluefish and Spanish mackerel over the deep grass flats. Redfish and snook are rated fair around the mangroves.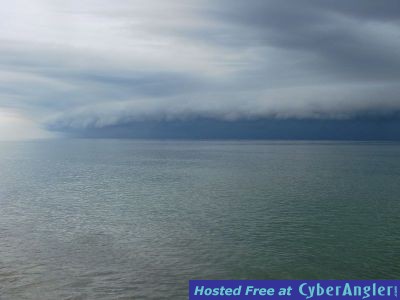 In fresh water, heavy rain has raised the water level in rivers and lakes. River fishing is slow, but lake action has been good. Top spot is Lake Manatee, where bass, bluegill, shellcracker and channel catfish are hitting poppers, nymphs, Wooly Buggers and Myakka Minnows.
Schooling bass should start in at Lake Manatee soon.

Englewood Fishing Forecast:

Sight-fishing will remain good through the end of the month and into September.
Target Species:

Snook, flounder, jack crevalle, Spanish mackerel, ladyfish
More Fishing Reports: