Estero Bay, Fort Myers/Naples Nearshore reefs
Capt. Joshua Roberts
May 11, 2016
Estero Bay - Saltwater Fishing Report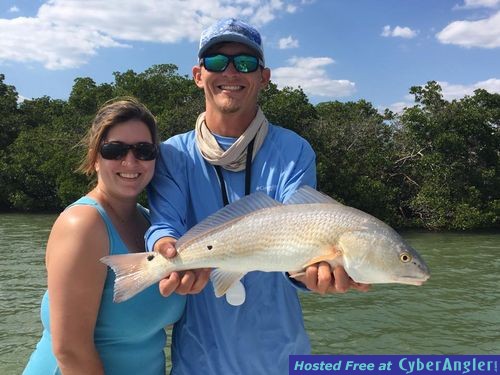 Fishing has been nothing short of amazing the last few weeks in Southwest FL.
Backbay:
Finding bait has became a MUCH easier task as the water has warmed up, and with it, weve found hungry fish. Fishing around mangrove shorelines with good tides, weve found schools of jacks, ladyfish, and with patience, redfish. Weve managed to get them to eat cut ladyfish, mullet, and sardines/herring when we can find them. Always good to bring some shrimp to pass time with snapper, whom have seemingly completely replaced the last of the sheepshead!
Nearshore:
Find the bait, find the fish. Weve found schools of bait out there as big as school buses. And with them, you can guarantee there are some spanish/bluefish/jacks/bonita and maybe a few hungry kingfish too. Bottom fishing has been pretty good. Fishing within 15 miles of Wiggins pass with Captain Ted Gibson, we managed a stellar day of catching close to 100 fish. Everything from Grunts, Snapper, a few Gags, and alot of red grouper. All but 1 red was short and we mananaged to keep maybe 10 snapper...lots of fun!
Thanks for taking the time to read, feel free to contact me via mobile 239-849-7137, or website@ www.fishsouthwestfl.com with any questions
--Capt Josh Roberts
Target Species:

Redfish, Snapper, mackerel
More Fishing Reports: