August Fishing in Everglades City and Chokoloskee
Capt. Brandon Acosta
August 3, 2017
Everglades City - Saltwater Fishing Report

We are now finding ourselves in the warmest summer months, and now that we are entering August, we are presented with some of the hottest fishing days of the year in the Ten Thousand Islands.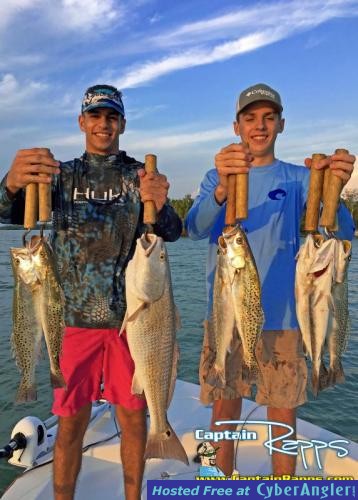 Midday in August usually means we can see high temperatures stretching into the nineties which also causes a water temperature to increase, bringing it into the high eighties. However, the almost daily afternoon thunderstorms we also face this month will provide us with a slight cooling in the temperature for active evening and sunset fishing.
Snook: I like fishing for Snook on both incoming and outgoing tides, and they are most attracted to live bait such as live thread herring, pilchards, or even finger mullet. Because the water is so warm in August, you will want to remember that these fish will most likely become tired out very quickly on the fight, so be sure to be patient on the release revival before sending them back strong and kicking.
Trout: I like fishing for trout on the incoming tide, and they will be closer to the shore and outside flats in only about three to five feet of water. Using a bucktail jig with a small piece of shrimp tipped on the tail is recommended or just using a live shrimp under a popping cork can award you with an even better chance at catching these fish.
Tarpon: Tarpon can also most often be found on the outside flats and deep channel cuts. Fish early in the morning right as the sun begins to rise, or in the early evening hours around sunset to provide you with the best chance for catching tarpon. Along with live pilchards and thread herring, also try to use live ladyfish.
Redfish: I like to find redfish on the incoming tide around the oyster bars, and you can get them to bite great with live shrimp or live baits like thread herring or pilchards. Artificial bait can also be used such as Gulp! Shrimp in natural or new penny color on a 3/8 ounce white or red jig head.
So, no matter what time of the day or what tide you choose to fish, you are sure to find a nice selection of fish to catch despite the rising summer temperatures and the warmer water.
Captain Pete Rapps
Captain Rapps' Charters & Guides
239-571-1756
www.CaptainRapps.com
Captain Rapps' Charters & Guides offers expert guided, light tackle, near shore, and backwater fishing trips in the 10,000 Islands of the Everglades National Park, and Tarpon-only charters in the Florida Keys. Capt. Rapps' top notch team accommodates men, women, & children of all ages, experienced or not, and those with special needs. Between their vast knowledge & experience of the area, and easy going demeanors, you are guaranteed to have a great day. Book your charter 24/7 using the online booking calendar, and see Capt. Rapps' first class web site at www.CaptainRapps.com

More Fishing Reports: