Everglades Kayak Fishing
Capt. Charles Wright
September 3, 2008
Everglades City - Saltwater Fishing Report

Ringer Rich's EKF Report ... Fishing out and around Chokoloskee and Everglades City this August was very rewarding as we were catching some real nice snook ... nice as in 30"+ fish. The fishing has been most productive early, at first light. It has been particularly good when the water is moving. However, we have caught some big fish up till mid-day and also at dusk. Mixing with the snook, on some of the oyster bars have been some nice reds ranging from mid to over-slot fish. The bait of choice has been top water plugs, especially Zara Spook Jr's. ... just about any color. This last week in August the Tarpon have been thick in many of the rivers and river mouths. They can be real fussy but now is the time to come and fish for them, now thru September! We have been in schools of juveniles along with some very large fish mixed in.
Yak Attack EFK Report - Fishing the areas South on the Yak Attack have been especially productive. The shallows have been holding hoards of snook feed on finger mullet ... perfect for a Super Spook. We have many 60+ fish days. Surprisingly, the month started off with a slow bite, but by the end of the month the fishing has been very good and very steady barring a very dreadful days ... one those days my angler turned to me and said "I think I,m going to take up golf!". The next changed his mind. This bite should hold strong for the next several months. September is one of our best time for redfish in Everglades National Park so expect many more releases of these fish.


Beginning in October, we will be doing the Yak Attack Kayak Fishing trip into Everglades National Park just about every weekend. In November, we will be starting our three day Yak Attack camping & fishing trips. These trips are one of the best experiences you can have in the Everglades. Using the Yak Attack we can transport up to six angler, our guides, lots of creature comforts and most importantly and impressive area of groceries including lots of local seafood. We camp, fish and relax in places the most only dream about. These trips leave on Friday morning and return on Sunday afternoon. They are really special.

Don't forget to register for our monthly drawing for the free Yak Attack Kayak Fishing Trip into the Everglades National Park. Remember that you must register each month for that month's drawing. Please congratulate the winners of this Labor Day's drawing for the Everglades kayak fishing trip aboard the Yak Attack!!
Earl Brewer (Tishomingo, OK)
Dee Kelly (Sanibel, Fl)
Fred Francis (Satellite Beach, Fl)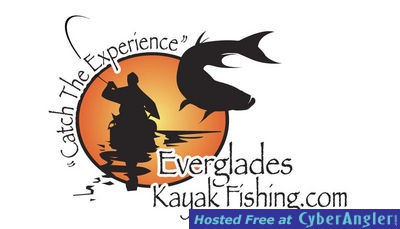 Capt. Charles Wright
www.EvergladesKayakFishing.com
"Catch the Experience"
239-695-9107

Everglades City Fishing Forecast:

September in the Everglades National Park is all about the snook and redfish. Tarpon and permit are around in good numbers, but it seems anglers can't be distract with these species in September.
Target Species:

Snook Tarpon Redfish Permit Cobia
More Fishing Reports: