Sick as a Dog SW Florida Fishing Report
Capt. John Kumiski
December 19, 2017
Everglades City - Saltwater Fishing Report

Sick as a Dog SW Florida Fishing Report
A lot has gone on since my last report. I've been quite sick, and I fished a couple places in SW Florida, and more. Thus the sick as a dog SW Florida fishing report.
Vanishing Paradise
This came in from Lisa Snuggs-
If you ever dreamed of fishing South Florida, book your trip now because it's fading fast. About all most people know is some beaches have been closed due to algae blooms, but a few beach closings are only the tip of the iceberg. Fisheries from Okeechobee to Florida Bay are in desperate peril, but so few are talking about it, sportsmen from other parts of the country are wholly unaware.
Did you know?
" Over 47,000 acres of seagrass in St. Lucie and The Indian River Lagoon have been destroyed by algae blooms
" Salinity in Florida Bay is now twice the normal level
" In 2016 a toxic algae bloom covered 239 square miles of Okeechobee
" The Everglades are slowly choking to death
" The Biscayne Aquifer is slowly drying up due to low water flows in the Everglades (8 million people depend on this water source)
" This is a manmade problem
" It can be fixed
This month, Vanishing Paradise is conducting a major push among bloggers to bring awareness to sportsmen because they are the true voice of conservation. Please contact us; we have the information and interview contacts to make a quick turnaround possible. Help us fight for the sport.
Bill Cooksey
Vanishing Paradise
901-487-2672
This reporter has been trying to get people worked up about declining water quality for years. We should all be helping Mr. Cooksey.
OK, the week's events. Last Saturday Susan and I and the canoe drove to south Florida to attend Maxx's graduation ceremony. He now holds a Master's Degree in Medical Science- he is a physician's assistant. He has a job interview tomorrow. Good luck, son!
Fly in the ointment- my nose was getting seriously runny. It would get much worse.
Sunday we went to Art Basel. It was so cool. Miami's art scene flourishes!
Monday we took Susan to Fort Lauderdale and sent her home on an airplane. Then Maxx and I went to Hard Rock Stadium to see the Patriots play the Dolphins. Minor problem- the Patriots lost. Another minor problem- it was in the low 50's. Now obviously sick, trying to maintain my body temperature in that environment was difficult. But, it was the only NFL game I've ever attended, I love the Patriots, and we stayed until the last minute.
Tuesday we drove to Everglades City, dropped the canoe into the bay, and paddled toward the Gulf of Mexico. An island in Everglades National Park would be our home for the next three nights. We located our Paradise and set up camp. I was spent. Seriously exhausted and feverish after all this, I was in my sleeping bag right at sunset. At least I had my own personal physician.
In the morning we went fishing. The trout fishing was as good as I've ever had. Anywhere. The dink fish were 15 inches long, most were around 20, and Maxx got a handful of three and four pounders. Then, just to punctuate the fishing with an exclamation point, Maxx hooked and boated a snook in the 10 pound range, just awesome.
Seriously exhausted and feverish after all this, I was in my sleeping bag right at sunset. Curious, I stuck a thermometer under my tongue. 102 degrees. The fever broke at some point during the night.
The next morning we did some more exploring. Not every place had fish, but when we found some they were stacked up. We got two at a time, over and over. No snook this day, though. No lizardfish, either. Maxx got a single crevalle and a single ladyfish. Other than that all we caught were fat, healthy seatrout. We only saw a few redfish all day.
When we got back to camp we had neighbors, a school trip from University of South Florida. Young and full of energy, the college students got a campfire going. I stayed up long enough to watch Sirius ascend, then went and crashed.
Maxx and I went fishing for an hour or so the next morning. He wanted to bring a few trout home. Somewhere in there another snook bit and provided some real excitement! Back at camp, we packed up and paddled back to Everglades City. Maxx drove back to Miami, I to Fort Myers to visit Alex.
Alex and I drove out to Ding Darling National Wildlife Refuge in the morning. We launched the canoe on the nose of the incoming tide and went exploring. We did not find much. I caught a mangrove snapper that maybe was four inches long, and a snook that was maybe eight. We saw three redfish and that was it. I'd never been there, always wanted to go, and was disappointed in the color of the water (brown) and the fishing results. That's fishing!
Sunday morning we drove to Matlacha and tried it there. Alex hit a redfish on his first cast, nice fish too. It did not last. I got a 20" trout, he got two dinker snook. The water looks awful, brown, full of black Rhodophyta algae, and very little grass. Mosquito Lagoon is not the only place with water quality issues.
I drove home this morning and went straight to bed once I got here. I hope I shake this soon.
And that is the sick as a dog SW Florida fishing report.
Life is great and I love my work!
 
Life is short- Go Fishing!
John Kumiski
www.spottedtail.com
http://www.spottedtail.com/blog
www.johnkumiski.com
www.rentafishingbuddy.com
https://www.smashwords.com/profile/view/jkumiski 
All content in this blog, including writing and photos, copyright John Kumiski 2017. All rights are reserved.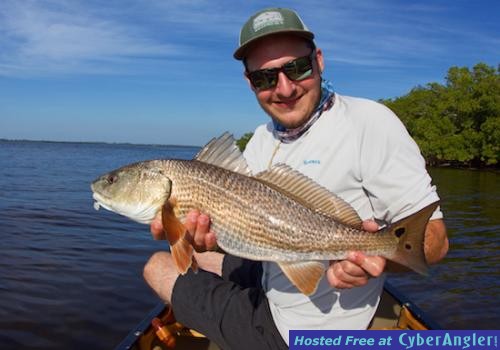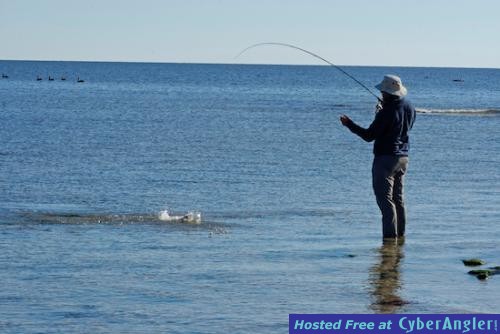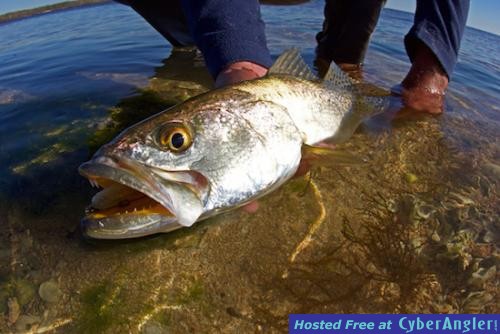 More Fishing Reports: