black friday redfish
Capt. Rob Ottlein
December 2, 2008
Flagler Beach - Saltwater Fishing Report

I know there is suppose to be global warming but this was the coldest November I can remember in the 19 years I have lived here in Florida. The colder temperatures have dropped the water temperature enough to get the reds to start schooling on the flats.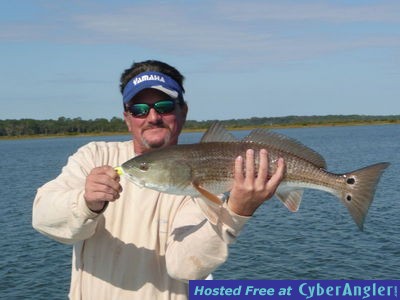 On thanksgiving day my buddy John and I headed to a flat that has produced reds for me in the past once the cool temperatures set in. We headed into the flat with the trolling motor on low speed and began to cast our gold spoons. I like to toss gold spoons because you can cover a lot of area quickly. We were moving along at slow speed when i spotted a cloud of mud 10 feet from the side of the boat. As I turned my head and looked to the front I could see the redfish start to scatter, there must have been 50 of them. As I looked to my left I saw John was hooked up. I cast a few times but they were too spooked to eat by that time and i concetrated on helping John land his fish. We got it in the boat and it measurd 26 3/4". We couldn't relocate the school so we moved on. We didn't get another red the rest of the day but we probably saw another 50.

On Black Friday we headed back to the same flat but went in with a different approach knowing they might be there again. Well the plan worked out for us as we boated 10 reds on gold spoons and fly's and lost about another 10 and had so many hits we lost count.

As the tide headed out we went up a creek to see if we could find some stragglers. Upon going up the creek I noticed a lot of my watergoing out on the tide. I looked ahead and spotted the reason for the mud, It was a wild Boar. He had his head buried in the mud at the edge of the creek. He finally became aware of us and lifted his head with mud dripping off of his snout and gave us a good stare. He let us have 1 picture then turned tail and took off. We saw a total of 4 hogs that day feeding in the marshes.
More Fishing Reports: