Snook Bite Continues
Capt. Rob Ottlein
July 26, 2008
Flagler Beach - Saltwater Fishing Report

Daytime trout fishing has been on the slow side but the night fishing has been good. At night look for docks that have lights that are close to the water. These lights will attract the most bait and in turn draw fish that will feed on them. Use a freelined live shrimp and let it drift through the light and into the dark and you should find fish. Artificials will also work. Use swimming plugs or a soft plastic shrimp imitation.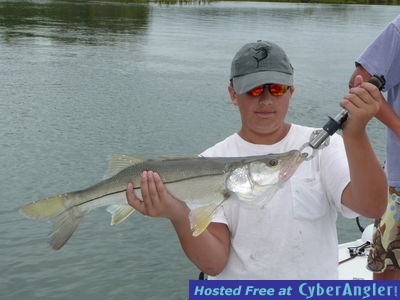 The snook bite is still going strong and it should stay that way through November. Look for creek mouths where there is an out going tide. If the creek mout has oyster beds around the front of it all the better.The best bet for the daylight hours is a freelined live shrimp. I'll put a BB split shot on the line where the braid is tied to the flourocarbon. On a recent trip I had clients hook up with 5 snook and landing two. One of the snook was so big it couldn't be stopped. It wound up breaking the 10 lb braid when it ran it across a barnacle encrusted dock piling. The largest snook landed that day was 6 1/2 lbs.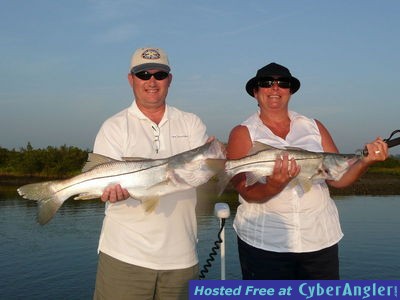 On another trip I had clients fishing a creek mouth and they landed 5 snook with the largest weighing in at 7 1/2 lbs. All were caught on freelined shrimp. They also had keeper size flounder, blackdrum and trout.
The ocean water temperature is back up to 80 degrees and they have been getting king mackerel off the end of the Flagler Beach pier. Last week they caught kings that weighed 26, 27 and 36 lbs.
More Fishing Reports: