Calm Weather = Great Action!
Capt. Jim Hobales
May 18, 2022
Flamingo - Saltwater Fishing Report

Today I'm fishing with my nephew Andrew. He is in fire college and hasn't fished lately. I asked if he was up and that's all it took. I needed to scout for tomorrows ABC Contractors Tournament. We found plenty of Snook and some Redfish. The best part was some rolling big Tarpon which we hooked up on 2. It was a short but productive morning.
It's 730 am and 40 teams are itching to go. I had Brett his daughter Bella (11) and Ricardo on board. It was a race like always out of the Lorelie, skiffs and Bay boats trying to get o their spots first. You can only hope no one is sitting where you want to fish. I got to my spot, and no one was around. It didn't take long and we Ricardo was hooked up to a Snook. He had the hot spot in the back of boat, he had 3 Snook before any one else got a bite. Brett caught up pretty quick though and Bella was right there with them. It was a maximum of 4 fish of each species on the score card. It was 9 am and we already had 11 Snook. I said lets go look for Tarpon there isn't anyone on the spot. The water was much dirtier than day before and I didn't give it much time.
I had to get to my redfish spot before tide got to high. I scraped my way onto the shallow flat to get to my spot. It didn't take long and Bellah had a 21" Redfish, then Brett got a Snook. Ricardo had a big bite and missed it but the fish came back. Great fight and he landed a 25" Redfish. We had a few more Snook and then Ricardo got another 25" Redfish. We needed Trout but it ends up that they were the tough fish of the day. Ricardo caught a nice 18 " Trout but no others with it. I tried everywhere and it led me to man old spot I haven't been to in a long time. As I was working my way to it a Tarpon blew up a school of Mullet. I said cast Ricardo did and got hooked up. The first impression was Tarpon but ended up another Redfish. It was a bigger one at 26 1/2 inches. There were no Trout there but happy with the Red. It was 3 pm and I said one more stop. A little run off that usually hole good numbers of Trout. but not today. Today it was full of 3-5 lb. Snook and we caught one on every cast for 30 minutes. It worked out pretty good everyone was happy and Ricardo won the Most Redfish Award.
The winds should slow down, water will stay clear and Snook and Tarpon bite should be on for the next month or so. There are plenty of other fish as well and I like catching them all. If you have kids bring them and let them give it a try. This is a great time for a buddies trip, give me a call at 305 333 8149.
Let's go 'Catch'em
Capt. Jim Hobales
Instagram @caught lookin charters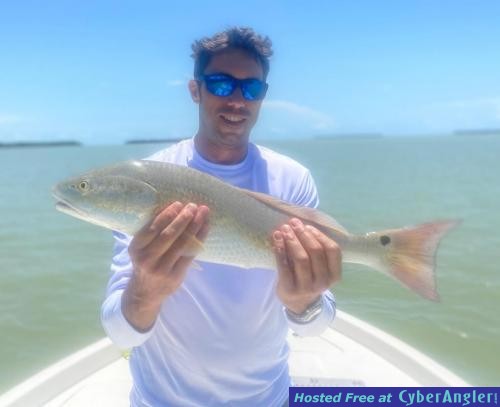 More Fishing Reports: