Flamingo - First in, last out
Capt. Benny Blanco
August 27, 2009
Flamingo - Saltwater Fishing Report

Time flies when you're having fun, no doubt and this Summer was no exception... too many first time accomplishments and too many slams to count. It's hard to believe the Fall should be better than it is now. The regulars know the promise of Fall time in Flamingo... we wait in great anticipation of cooler air and water temperatures.
In the mean time, the patient angler catches more fish. While water temperatures still exceed 90 degrees, slight changes in approach will lead to greater success. This week I took advantage of high water to find cooler temps and happy fish... when I went skinny in search of tailing Redfish, I slowed things down and switched often to stinky baits. My fly fisherman had the advantage this week... small shrimp patterned flies drew vicious strikes from all the major species. Pulling drag and high fives were very common sounds all week long... Flamingo is a special place.
First in, last out
Mike and Scott met me early last Friday morning... one of the first boats in the water. Having been out with me several times this year, they are very familiar with the drill. They expected to be on fish early and often... this day was no different. Within seconds of reaching our first spot, baby Tarpon from 5 to 20 pounds surrounded the boat... in no time, they each had one airborne. We left them biting in search of other species. For the next four hours we hopped from spot to spot, staying in front of the tide and on fish. The Snook were hiding in the grass and on edges of potholes, lying in wait for unsuspecting mullet. The Redfish were piling up on rays and tailing hard in every direction. They caught their fair share and completed their slams...
After being chased around by a few storms, things settled again. The water had risen higher than the morning high and the new water temperature was much better. As the sun began its decent, the fish fed hard. We found a large school of Snook mixed in with rolling Tarpon and had a blast... I even got in on some of the action. We ended the day with a couple of nice top water Redfish and Mike's biggest Snook to date... the last ones out of the Park. What a day!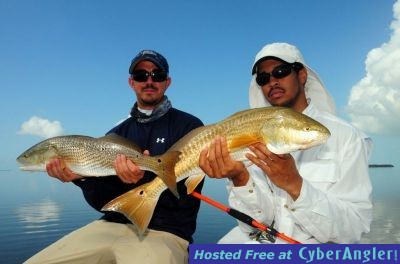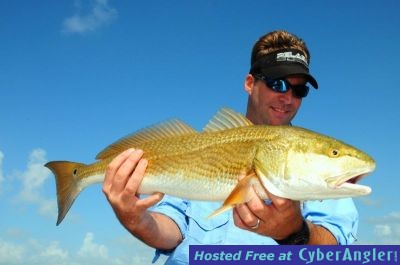 Flamingo Fishing Forecast:

Be sure to catch FSTv this week on the Sportsman's Channel or Sun Sports... Blair Wickstrom and I hit Whitewater Bay and the Gulf Coast for some "Creek Smarts", in a new Pathfinder 22 XLTE... www.floridasportsman.com/tv/2009/episode_9/index.html

Target Species:

Tarpon, Snook, Redfish, Trout & Black Drum
More Fishing Reports: