Flamingo Fishing Report 7/21/2012
Capt. Steven Tejera
July 21, 2012
Flamingo - Saltwater Fishing Report

I always say "this is a good time of year to fish in Flamingo" but the truth is we are spoiled, we are spoiled because year round we have an awesome fishery. This question always comes up as well " What is the best time of year to fish in Flamingo"? The best time of year to fish in Flamingo (Everglades National Park) is year round! There is never a dull moment, and if you have never been to Flamingo booking a fishing charter will give you the opportunity to experience the best the park has to offer.
This month has been Hot! We are sight fishing with artificial/fly on just about every trip and being successfull catching Snook, Tarpon, redfish and seatrout. I was on the water just about every day since my last report and each day we crushed the fish. We had big snook blast jerkbaits so hard they nearly knocked the rod out of the anglers hand, big tarpon follow the fly in inches of water pretty much making your heart stop and redfish waiving there copperish blue tails at us all waiting for something to cross their path. What a month!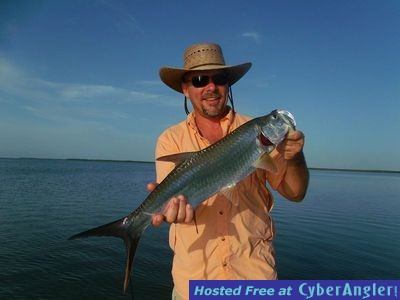 The last two days I fished Rob Birk and his nephew Eddie and both days they had a great time and caught fish. Yesterday (7/20/12) they had an awesome day catching 24 redfish and 21 snook all on artificial lures!
Capt. Steven Tejera
www.knottightcharters.com
305-283-8059
capt.steventejera@gmail.com
More Fishing Reports: