Flamingo was Red Hot this week!
Capt. Jim Hobales
May 22, 2023
Flamingo - Saltwater Fishing Report

Flamingo was Red Hot this week, I was down there 4 days and caught everything that swims.
On Monday and Tuesday, I fished with Paul Davis His friends Mie and John. Paul grew up across the street from me growing up, his brother Bobby was actually my best man at my wedding. Its been 40 or so years since we have seen each other.
Thery caught Snook, Trout, Redfish Sharks, Ladyfish Jacks, and Snappers. It was fun day; on Tuesday we went into Whitewater Bay. We found some small Tarpon on the way out and we went 2 for 4. Once the sun came out, they disappeared. They all caught their first Snook Redfish and Trout. Mike caught his Tarpon and Snook on Fly.
We made a few stops caught several species and found some pilchards and Mullet. We did some live chumming out on the coast and got the fish in a frenzy. We had 1 nice fish on and it was eaten by a Shark that we couldn't stop. We bounced around to all my Snook spots catching some Trout and eventually hooking a couple big Goliath Groupers. They were big and got into the mangrove roots leaving a stunned look on their faces. After 2 long days they said lets go they had enough! They caught a lot of species and had a great first trip to Flamingo.
On Saturday I fished the ABC Contractors Tournament out of the Lorelie in Islamorada. I had Mike, His wife Sara his daughter Kiley and Jason a business partner. we made the run from the Lorelie to a spot that had Tarpon the day before. They weren't there we arrived but showed up later. In the meantime, we caught Snook, Trout, Jacks we also had some sharks come eat a couple baits. We did have a Tarpon eat a bait but didn't hold on to it.
I had to catch the incoming tide for my Redfish spot but when we got there, we had to wait a bit. Tide came up and Kiley had the hot hand. She had a Snook a 5lb Redfish and then a 1lb Redfish. We had a few more Snook and then Jason caught a nice 28-inch Snook. It slowed down and the ladies were hot. We decided to head back with one more stop. The last stop was the bite were looking for all day. I had about 10 Horse Pilchards left. The first was eaten by a big Lemon Shark, then Jason caught a 29-inch Snook. We missed a couple until Sara got a good one on our last bait. It was a 28-inch Snook and after that every ne was ready to cool down on the ride back. This was a very enjoyable day. Everyone held their own with pretty good casting skills. When it was all over Kiley won Most Redfish in the JR division.
Fishing will continue to be good all summer out of Flamingo, they like it when it's hot. I will also be doing some patch reef trips out of Key Largo as well as my back country trips. If you have an interest in some back country fishing give me a call at 305 333 8149.
Let's go Catch' em
Capt. Jim Hobales
Instagram @ caught lookin charters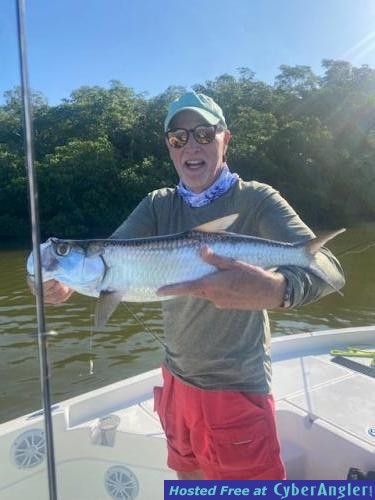 More Fishing Reports: