What hurricane, lets go fishing!
Capt. Jim Hobales
September 14, 2017
Flamingo - Saltwater Fishing Report

091417
This past 10 days we had to prepare for the biggest hurricane ever to come across the Caribbean it was taking dead aim at Miami and there were no steering currents. The Tuesday prior to the hurricane hitting the Keys it was obvious we needed a miracle for this monster not to hit us dead on. We got lucky it as it passed thru Cuba and slowed it down a bit! The rest is on the news. The whole Keys chain goes from devastated to still livable. Here in Miami we were lucky, yes there is some damage trees and roofs but for the most part (at time I'm writing this) most of county has power. 
The big issue for myself and all my fellow Flamingo fishing guides is the park got hit pretty good and I haven't really heard how bad. I will make my way there in a week or so once things get straitened out in Key Largo. it will be interesting to see if it helped or hurt. 
The Mullet Run is going to start pretty soon, there are some reports of Mullet pushing thru Ft. Lauderdale. I will be concentrating in Miami for a while, if you have never fished the Mullet Run you don't know what you are missing. I will also be doing much more fishing in south Biscayne Bay for Bonefish, Permit, Snook, Tarpon and anything else that swims. 
I finally got some free time after all the clean up yesterday and went out with my son and his friends at a local spillway. I got a nice Tarpon on my second cast and a Snook after that then my son got s bass. It felt good!
I am open for business and I can show you a great day on the water anywhere on the Miami Dade county coast, Give me a call at 305 333 8149. 
Thanks, 
Captain Jim Hobales
www.caughtlookincharters.com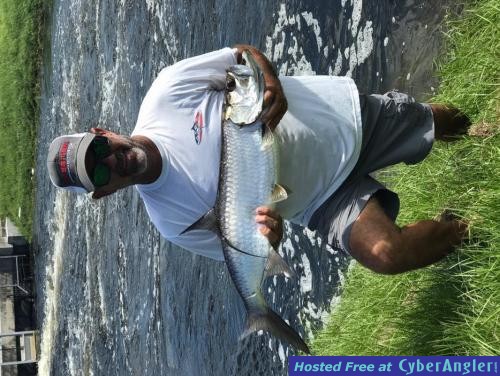 Flamingo Fishing Forecast:

MULLET RUN TIME
More Fishing Reports: